Conference and Holiday in Belgium and France May 2005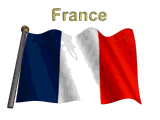 Paris, France (here is the National Anthum-click pause when required)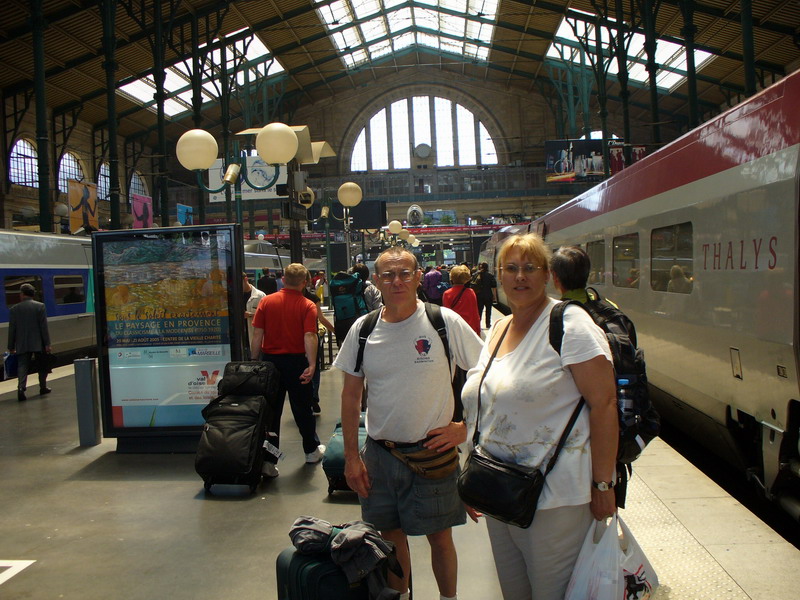 As we got to Paris, we immediately got acquainted with the Metropolitan (Metro) and headed to our hotel "New Oriental Hotel" which was fantastic. Here are a few pictures of us from the hotel room.
Once in the hotel room we received a message from Martine and Marcel for us to go meet them at their house for supper at 1930 hrs. (Marcel and Martine are friends of my parents and people we had met earlier in Canada and I had visited during my time in Paris in Nov 04).  As a good military person I immediately got George to accompany me on a reconnaissance to find the location. I left Sharon at the hotel getting ready for the evening meeting. George and I went a few different ways to get to know the area a little better (for those of you who know me, we got lost). Once on the road, George and I saw a demonstration at the St Augustin Church. Later that evening Marcel told us that this happens often as people rally to seek sanctuary in the church. He calls them "Sans Papier". This is not a raciest-site but the comment was made that this demonstration was mainly blacks. I draw your attention to the police, the amount of police and the fashion in which they were dressed.
On the night of 27 May we all made it to Martine and Marcel's for supper and drinks. Alexander, their son, was also present later that evening. These people treated us like royalty and made our first night in Paris enjoyable and relaxing. Merci Marcel et Martine.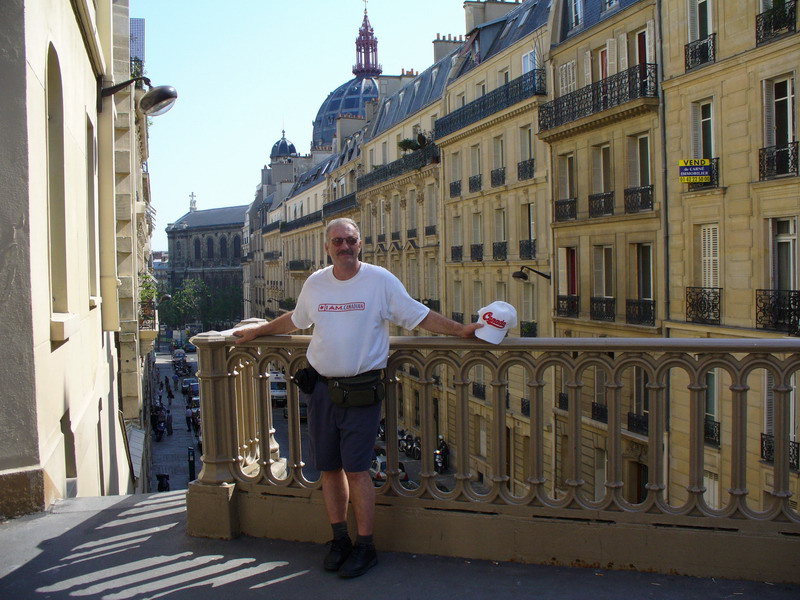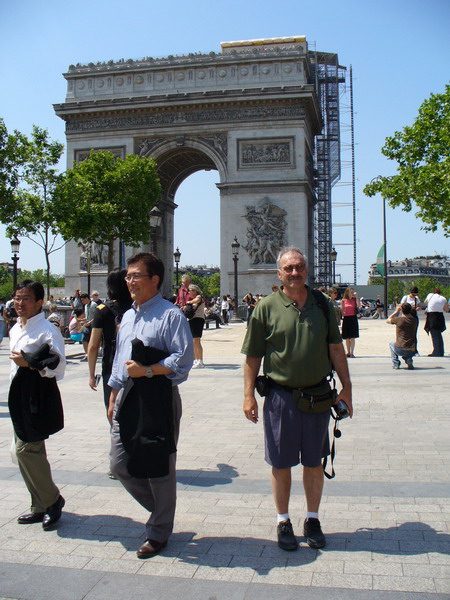 George and I walked up these stairs to the top of the Arch de Triomphe. Not an easy walk as you can see.
On our walk from the Arch de Triomphe we went down Champs D'Élysée. At the Hollywood Planet Sharon struck a pose with Darth Vader made out of LEGO.
Where we picked up a few groceries, you could see this from our room.
Les Invalids. This complex of building includes the Hotel des Invalids, The Dome and the Church of St-Louis. Invalids was ordered built by Louis XIV. It was designed as a refuge for old and invalid soldiers who were forced to beg for a living. The Hotel has three museums: The Musee de L'Armee, The Musee d'Histore Contemporaine and the Musee des Plans-Reliefs. We visited the Musee de L'Armee along with the Dome.
We normally would try and start out the day with a coffee. This tradition has not changed in the 28 years that Sharon and I have been married (29 this 20th of Nov). So Sharon wanted a STARBUCK's coffee-the closest thing to TIM HORTON's for those Tim Horton fans. We love our Tim's also but none available in France!!
Our metro rides
Sharon had us walk approximately two hours the first day as we looked around for a Starbucks coffee house. By the end of the 9 days in PARIS we had the Starbucks cased and had reduced our time form hotel, through Metro to Starbucks to less than 30 mins!! Here are a few pictures from mixed days.
We finally made it back to the Eiffel Tower and this time stood in line to go up the tower. George bought a ticket to the top. The Eiffel Tower was opened 15 May 1889 at the world fair in Paris. It is 320 meters high, It weights 7000 tons and has three large floors, the first 57 meters from the ground, the second 115 meters (this is where Sharon and I got off) and the third at 274 meters and this is where George went!!
Here is a close up. Look carefully at the fear of heights in Sharon's eyes as she grips that girder!
We also went to visit les Galleries de la Fayette and from there took the pictures you are about to see. The pictures were taken from the top of les Galleries.
On the 1st of June we went to the Louvre. Here we seen many fine paintings and enjoyed the movement back and forth to the different style of museums.
We visited the famous Moulin Rouge.
Sharon with the history of the Moulin Rouge
The Place du Tertre is an old square that was used as a meeting place and is frequented by painters.
Sacre Coeur Basilique. Sacre Coeur Basilique. This church is on the top of Montmartre hill. It was begun being built in 1876 and consecrated in 1919. One of its bells weighs 19 tons.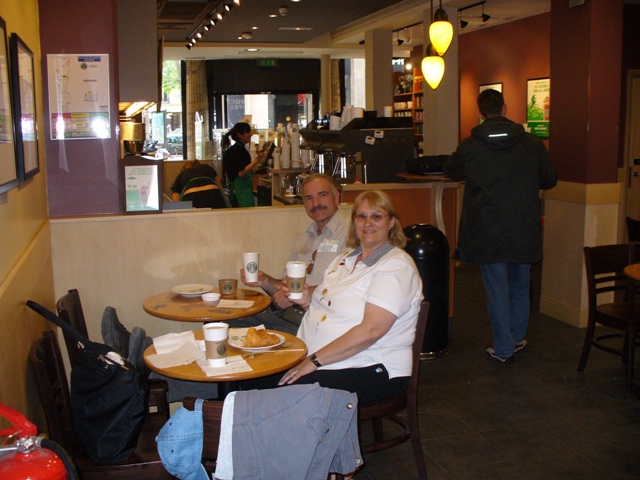 "Jardin DAsie Thailandaises" restaurant. We enjoyed this meal so much that we ventured here again on 3 Jun for supper. In Paris meals are expensive (hell, everything seems expensive) and this meal for quality and cost fits our budget and pallet.
We started the day like most other mornings, with a trip to Starbucks.
On exiting Starbucks though we went towards a different direction (to change things around) and stopped in a leather shop to contemplate a few purchases. Here is a picture of that shop.
we just took the day to venture to the airport and have a dry run of what connections of metro and train to take to reach our flight on time. We also took the opportunity to go and walk around downtown Paris. One photo of interest is the picture of the washroom for men that were put to use as we sought a place to relieve ourselves. The beer was good also.
cathedral of Notre-Dame whose towers were built in 1245 but the church was only completed in 1345. This was the site in 1804 of the coronation of Napoleon I by Pope Pius VIII.
We got up early, went to Starbucks and headed to Versailles. The creation of the great place de Versailles was due to Louis XIV, who after civil disturbances known as the Frondes decided to abandon Paris and transform the old hunting castle into a royal palace. The royal family stayed there until Oct 1789 where they returned to Paris after a procession of market women had marched on the palace in an unprecedented demonstration. This location was also the scene of the coronation of William of Prussia as emperor of Germany.
The gardens were developed in 1661 and occupy 100 hectares. We see the Fountain of Latona which stands at the beginning of the long avenue called the Tapis-Vert at the other end of which is the great Basin of Apollo.
we decided to go and visit Disney land of Paris