SNOWBIRD trip to North Myrtle Beach, South Carolina, USA

30 Dec 2017 to Apr 2018
Sharon and I had a great drive through the mountains of NY State and where not hampered too much by the wind and snowy conditions. Our first hotel stop at Hampton Inn & Suites Harrisburg/North, PA was good but Sharon and I did not like that stop and have decided that we'll stop somewhere else next year. Our next hotel was Hampton Inn Rocky Mount, NC which Sharon and I loved.
Before stopping in Rocky Mount, we stopped in Prince George, VA to visit friends. Marigene and Tom with their two sons were very hospitable. They arranged a buffet for lunch that would top any presentation done by famous restaurants. The conversation and updates of family events were also welcome.
We had a great visit. To see more pictures of our visit, including the "retreat", or lowering of the Canadian Flag by Tom and I. click here
Sharon and I arrived in North Myrtle Beach the afternoon of the 1st of January.

We stopped to place our bags in the condo and immediately went to ENoodles for lunch. This Asian Bistro is something Sharon discovered about 5 years ago. If ever you are down and have a liking for Asian food, this is a place to try.
Note: Our very good friends Milli and Frank, who you might have seen many times throughout the years were not able to make it to Myrtle Beach this year. They remained in Maine and were sorely missed. We are praying that they will be with us next year.
I am going to take a different approach to presenting our time here in North Myrtle Beach. I am going to do it by month rather than by day. There are so many common pictures that I calculated it is best presented this way.
January 2018
Firstly, Pelicans come and go around our condo building. They are fearless and quietly picturesque. They are also timely. Early morning around 7am and later around 10am. Here are a few pictures to show you just how close they can come and how majestic they look. I realize the pictures would have more impact and better symmetry if there were clouds in the background or pictures taken from a different perspective. BUT-having said that, here are the pictures....
January 2018 was also a time of firsts. I went to Eagle's Nest to play some golf with a few people. On the 12th hole, 169 yard, par 3, using my hybrid 18 degrees, I aced the hole. Here are a few pictures to immortalize the event.
Here is the group that I was with...as I bought the appropriate round of drinks. The guy on the extreme left is Howie (from Barrie, Ont), next to him is Art Green (From Kingston) and in the back is Lonnie (USA) and then me...Mr Hole-in-One...
A few months back home and I received this in the mail
Every now and then there are shrimp vessels that go up and down the coast.
Here is a picture from the condo looking south and below that, you'll see a picture looking north. The pictures have gone through a program called Aurora.
We thought we'd toast our arrival and enjoy the moment...this is at Molly Darcy, Irish Pub right next door.
Later we indulged...at Krispy Kreme
While in Kingston, Kathryn (my daughter) introduced me to Planet Fitness (PF). I liked it so I joined. With my Black Card, I am able to go to any PF gym. In Myrtle Beach I was going to PF about 3 times a week. I enjoyed the layout and the friendly people. They are more friendly there than in Kingston (personal opinion).
As the month moved on, Sharon and I, along with Art and his wife Lynne Green (from Kingston they were staying at the Barefoot Resort), went to the Carolina Opry to see the Irish Dancers.
Here is one picture of the Irish Dancers. To see more of the dancers, click here, you'll find more pictures of the evening routine that I captured.
One morning Sharon and I went out early to capture the sunrise. One of the pictures we took (this one below) we've decided that we'll get it done professionally. There is something soothing about the waves, the sun coming out, the pier, dolphins out on the water and the birds all coming together in this picture. PLUS-I took it with Sharon by my side :)
Many times we see dolphins and they seem such playful creatures. This particular one was riding the waves...yes they were close to the shoreline.
February 2018
Our February siting of a dolphin

Before going to the show at Carolina Opry, we went out for supper...German, so Sharon was happy!!
Every year since we have been going to Myrtle, we have always taken a night to see Time Warp. This year we were very disappointed in the performance and the theme that they choose. Singers/songs from Rocky Horror Picture Show and Woodstock.
And they always finish with a tribute to the serving and retired military
A sequence of Sharon meeting a dog and then saying hello...nothing special except that Sharon must stop and meet all the dogs and knows some of them by name...the owners? Well, she just says hello to the animals ;)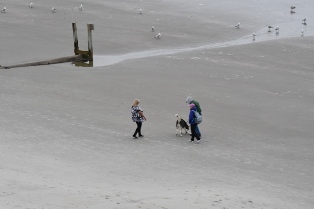 This was a vibrant sunset, I couldn't resist
We went out for St Valentine's Day (14 Feb for some of you who are wondering)
Sharon toasting the special occasion
There is an arrow showing Sharon walking. Notice how far the tide has gone out. That is the best time to walk as it is so much easier than at high tide.
Last year we went on a cruise and these are the ladies we met. They came to see us at the condo and then Sharon went to their place for coffee. We found out that they wanted to steal my wife away to go on an cruise - just the girls -....Sharon said "no". We don't take holidays apart. Life is too short ;)
People I enjoyed golfing with. This was taken at Oaster Bay where we were able to have a breakfast, lunch and a round of golf for about $30.
A neat par 3 hole.
March 2018
The pelicans fly into March...hopefully that will mean more consistent warmer weather..
A dolphin sighting
A fasinating rainbow after some nasty weather
I love the sunrise--or in this case, a sunset
The sunrise on 11 March
Sharon going out for her walk...as you can see she is still wearing a winter jacket.
And here is Sharon feeding the birds
Then going off for her walk
For those who think that golfing is not a dangerous sport....think again!!!
We also visited the Duplin Winery. It is just down the street, but we never seem to be in a position to just stop there
Then we had a visit from Tom and Marigene. Here we went shoping and Sharon loved this board in the shape of the USA...I should check her passport again....she seems more American every year.
We next went to a store that is somewhat famous - Paula Deen at the Boardwalk. She found this nice blouse and, of course, we purchased it.
In the back is wonderworks where most visitors love to go-in fact, so do we ;)
This one is "funny" I got a text from my daughter Kathryn saying there was a riot ATM...I thought it meant a riot at an ATM....only to find out later that it was short for At The Moment...grrrr
So we re-enacted having a riot at an ATM...(ATM is off to my left)
Tom and Marigene took us out for supper at Roadhouse.
While Tom was visiting, we were lucky enough to meet his niece Paige and Matthew who attend Coastal Carolina University in Myrtle Beach
We invited them over for a lunch
Marigene and I are going to have breakfast on the deck...of course I was nominated to cook!!!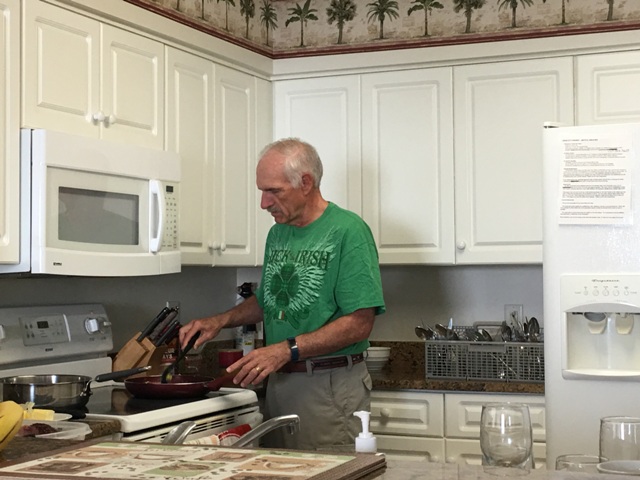 Once they had gone, I received a package in the mail from our friends in Mt Jackson VA. Upon opening it, there was a note to celebrate my getting a hole in one. Thanks John and Betty.
Another walk on the beach and yes, Milli, here she is wearing another one of your gifts...so fortuitous since she forgot a lot of her stuff in Canada.
We had walked to the pier in Cherry Grove to get a picture of the sunrise with a pier in the background.
Time to leave
Later at the end of March we left North Myrtle Beach for Prince George to see Tom, Marigene and family for Easter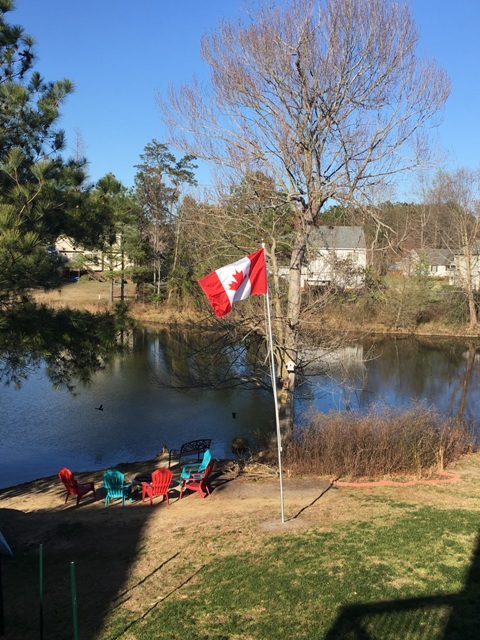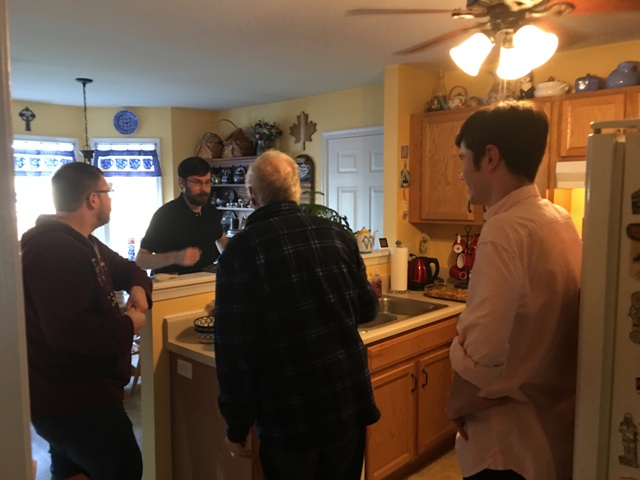 The church and service were wonderful
The next day Tom took us on a tour around Pettersburg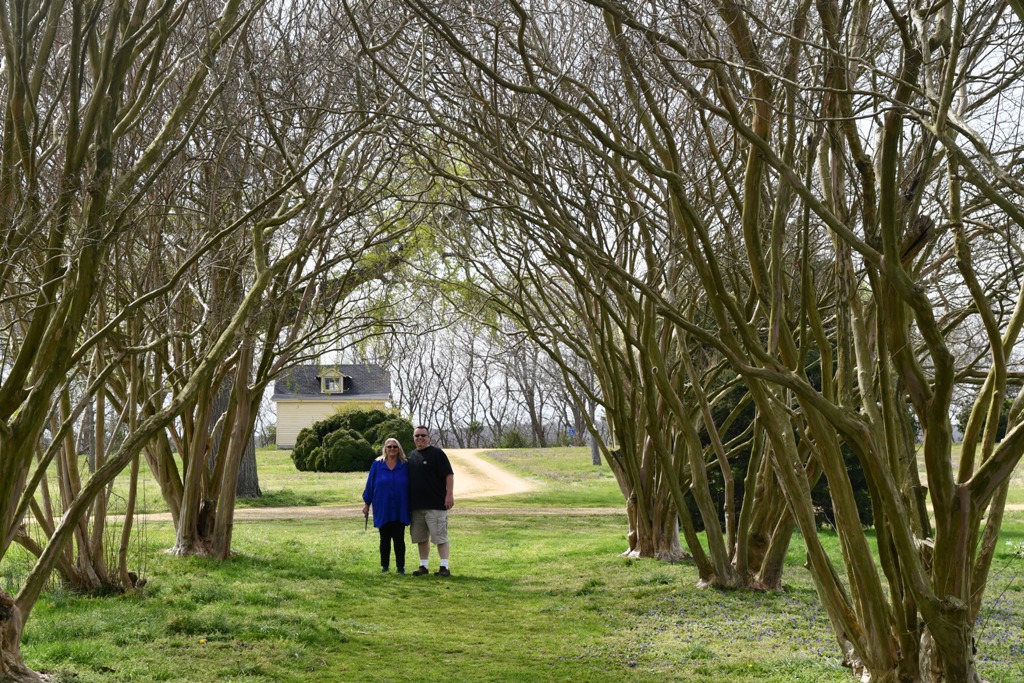 For more on our visit to areas around, an old Confederate cemetary a visit to where Gen Grant stayed, and for the more informed of you, we had a look inside the City Point and the Union Supply line. Click here for more
The supper before leaving was wonderful
The dessert...well, I had two pieces.
Before leaving, Tom and Marigene had a flower (Easter Lily) for my mother but unfortunately we told them we were unable to bring it across the border.
No matter how little you want to bring, you always end up with a vehicle that is full and you end up looking for a place to insert things.
Well on our way
Good bye folks