SOLDIER ON with ST ANDREWS' LEGACY 2017
7 - 15 June 2017

St Andrews, Scotland
The map of Scotland and the home of golf.

First - the "Warning Order"
On 7 March 2017, I received an email asking me to call the "Soldier On Operations" and talk to Joe Kiraly. When I did he asked me if I would like to represent Canada in the Soldier On experience in Scotland. Needless to say I was wondering if this was some sort of prank or one of those "someone is putting something over you" ideas. When we finally cleared the air and realized that it was all for real, I was excited. Phone calls, itinerary and Admin Instruction could not come fast enough.
Next - the "Administration Instruction"
Finally, in April, everything started to come together. Train, flights, Admin Instruction...it was all there. What started out as "Is this a joke" was turning into a reality and a completion of one of my bucket list items that I wondered if I would ever have a chance to accomplish.
--------------------------------------------------------------------
"Soldier On" through its partnership with St Andrew's Legacy conducted the hosting of our veteran rehabilitation program from 08 to 15 June 2017. The intent of this project is to help those who have sustained an illness/injury and who use golf as part of the recovery process and is aligned to the mandate of Soldier On.
To be clear, there were eight members selected from across Canada to participate in this yearly event. A team of four left in May and as part of another team of four, I left in June. I was just thrilled to be one of the team to participate in this very celebrated golf trip. I thought I was blessed to have been chosen to partake in the Regional Golf Camp last September in Fox Harb'r Resort, Nova Scotia, but this trip was the crème de la crème.
The following members were selected to attend the St Andrews Legacy golf trip in June:
(1) Sgt (ret'd) Derek Spracklin;
(2) Maj (ret'd) James Fisher;
(3) Maj (ret'd) Pierre Tassé; and
(4) MCpl (ret'd) Rick Greenhough
Lodgings- Members of Team "Soldier On" were hosted by St Andrews' Legacy and accommodations were provided by Deveron House, St Andrews.
Finally - the "Confirmatory Stage"
Wait--now that we got the warning Order out of the way, along with the Administrative Instruction, next would come the confirmation that we understand everything through questions and answer phase.
It started off with a conference call. It was so well organized. Questions were asked, answers were given and anticipation was through the roof. We were like a bunch of recruits anxious to get to the graduation parade...except here we would not want it to end (if my wife actually reads this-I am just kidding-I will be coming home).
Preparation: The hardest part is -what to pack. Looking at the weather forecast it is a low of 8 C / 46 F to a high of 17 C / 62 F. So layer is the operative word...well, I can only pack so much ;) Never mind mentioning the wind...yes there would be wind and it would intensify the temperature so it will be a colder wind than the temperature forecasters would attempt to convey.
---------------------------------------------
Facebook Comments
As this is 2017, with the plethora of social media sites, I chose to post the activity on Facebook:
Letting my friends know that tomorrow I will be heading off to St Andrews, Scotland in a Soldier On program. They honored me with my selection to go there for a week to play golf and meet some select international veterans, like me, with various disabilities. I was humbled when I was selected for the regional golf camp at Fox Harb'r in Nova Scotia and found I was not alone in a lot of my personal issues. As veterans we are not looking for money grabs (as some people might think), we are just trying to re-establish ourselves, get back that self confidence we seem to have lost when we came back from our operational theatres. Soldier On is doing great things and is helping out veterans with disabilities all around the country. I am one of the lucky ones that has been touched by Soldier On more than once. Thank you for this opportunity.
My daughter shared my post and I have included some comments that my friends left for me on Facebook.
Weather Forecast as of 8PM Tuesday - so it will most likely change in another 10 mins or so ;)
--------------------------------------------
7 June 2017
Travel: Drive to train station, VIA Rail to Toronto, then UP Light Rail to Toronto Airport, WestJet to Glasgow, Then GOLF
8 June 2017
We arrived in Glasgow International on schedule. We were weary travelers but we were all geared up to take advantage of this tremendous opportunity provided us. We arrived tired. We had what is know as Jet Lag. Just did a Google search and - some bad news "The older a person is, the more severe their jet lag symptoms generally are and the longer they will take to get their body clocks back into sync." At my age, I will be just getting over this "jet lag" as I'm boarding my flight for Toronto. Regardless, we were ready to get down to business. Well, we were sleepy - but ready! We wanted an easy first round to get into the rhythm.
John Stewart

John Stewart- Just a note to recognize that most of the sensational photographs taken were professionally done by John Stewart of New Links. If you have a minute, read a bit about this great organization.
Now down to golf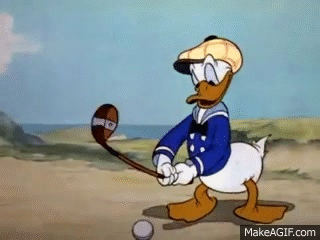 Established in 1876, the Machrihanish Golf Club has become well known in recent years especially for the Championship Course's exceptional first hole which requires the round's opening shot to carry the Atlantic. In 1879, the recognized statement, "specifically designed by The Almighty for playing golf" was expressed by Old Tom Morris reflecting on just how marvelous and natural the course was.
Machrihanish is a village in Argyll, on the west coast of Scotland. It is a short distance north of the tip of the Mull of Kintyre, which faces out towards Ireland and the Atlantic.
For pictures of Machrihanish Golf Club and social afterwards, click here
9 June 2017
It was a hike to get from Machrihanish to St Andrews-but it was well worth it.
We arrived at the Deveron House at St Andrews Click here
10 June 2017
The Duke's was revised and renovated with five completely new holes by Tim Liddy in 2006. Tim's philosophy is one of allowing a golf course to "grow out of the land" rather than be imposed upon it. The course now displays all the hallmarks of the great heath land courses of the early 1920s. HRH The Duke of York, Prince Andrew, who played an inaugural round with British Lions and Scottish Rugby Captain Gavin Hastings OBE, opened the Duke's in July 1995.

Here is the location of the Duke's and St Andrews Bay Golf Course
For pictures of the Duke's St Andrews, Click Here
11 June 2017
With spectacular views - the sea is visible from every hole. Craighead provides panoramic views of up to 100 miles, legally protected Sites of Special Scientific Interest flanking the 13th and 14th holes, and a World War I pill box behind the 7th green, all in addition to serious golf. With no two consecutive holes facing in the same direction, managing the wind is a significant factor in playing the course. The greenkeeping staff take regular stimpmeter readings on both Balcomie and Craighead to ensure that the greens are maintained at a speed of between 7 and 9. Any faster and they become unplayable in the high winds we regularly experience.
For pictures of the Crail, click here
Later that evening we went out for Italian
I had lasagna
12 June 2017
THE KITTOCKS  72-PAR COURSE | 5600 – 7191 YARDS
The Kittocks Course has been designed by Bruce Devlin, a notable course architect of many famous courses including the Kings Course at Gleneagles and the exclusive Secession club in Beaufort, SC. The Kittocks is a long and challenging course requiring nerves of steel to navigate its many holes running alongside the coastline. It's famously played host to Europro Tournament 2007 and 2009 and Scottish Youths National Championship 2016.
For pictures of the Kittocks Course at the Fairmont, click here
13 June 2017
A little history on The Jubilee: In March 1897, John Angus was presented with the challenge of designing a course suitable for beginners and having it ready for play the same year. The 22nd of June 1897 was a public holiday to celebrate the Diamond Jubilee of Queen Victoria and on this day a rudimentary 12 hole course was ready for play. In commemoration, it was called the Jubilee. At the turn of the century, the course was extended to 18 holes and in 1946, Willie Auchterlonie made further improvements to the layout. In 1988, Donald Steel gave the Jubilee a complete overhaul and upgraded the links to championship standard. The course now measures nearly 7,000 yards.
Click on the image below to see the Jubilee Golf Course "full size"
Pictures of our visit to the R&A Club click here
14 June 2017
6721 yards, par 72
Follow in the footsteps of legends
The oldest and most iconic golf course in the world. The Swilcan Bridge and Hell Bunker are recognized across the globe, yet the greatest feature of the Old Course is that despite its grand status it remains a public golf course, open to all.
Quick Facts
Golf has been played at St Andrews Links for 600 years. In 1552 Archbishop Hamilton's Charter recognized the right of the people of St Andrews to play golf at the Links.

St Andrews Links takes up almost 300 hectares and The Castle Course almost 90 hectares.

More than 230,000 rounds of golf are played on the seven courses each year with around 45,000 being played on the Old Course alone.

Around 300 people are employed by St Andrews Links Trust in the peak season making it one of the largest employers in St Andrews
For pictures of the Old Course, click here
We then went to the St Andrews Golf Club for a great supper and surprise gifts click here
For pictures of the surrounding area that I got to see on my morning walks, click here
John Stewart wrote an article on each of the players who attended. I have cut and pasted the article on each as part of this website. Click Here
15 June 2017
On our way home
----------------------------------------