20 November 2017 - This is going to mark our 41 years of marriage. Just a quick synopsis to bring everyone up to date from the year that I met Sharon, through the years we have celebrated our marriage to our trip to San Francisco.
This was 1975 at Omiette in Montreal-the wedding was a year later
1976 Montreal North
1999 Stoney's in Kingston
2005 Mino's in Kingston
2014 Sea Food Merchant in Kingston
2016 Toronto
2017 San Francisco
Well, you'll have to wait. We decided a while ago that we would go to San Francisco and celebrate. Flower Power here we come.
We will be staying at the Donatello. Located in downtown San Francisco.
To ensure that our time is well spent, I drew up a schedule of things that we'd like to do. As you can see, we stay at the Donatello until the 17th and then we head out down south to visit Pebble Beach (Monterey) and we tried to go a little further to make it to Hearst Castle in San Simeon but we got so tied up stopping and taking pictures along Highway 1 coastal road that we never made it passed the Big Sur Lodge (where we turned around). So many things we are aiming for...but we will not stress out trying to accomplish all of it. We have tickets for Alcatraz and for the Play "Aladdin"-other than that (as they say) it is what it is...
Trip started out with a big worriesome email...they wanted me to check in on line and they had the flight leaving at 1:25 PM vice 3:25 PM...I made a mistake - I had not checked "intently" the five or six itenerary changes that have been made, included this particular one...grrr. I had phoned AirCanada when I got the first one and they said it was only a minor change...THIS was not minor. The updated iteneraries should be highlighted in red what the changes are.
Quick Link to the days
9 November
The day started off at Kingston's Roger's airport with "Convicts" loading on a plane and there were guards with rifles...unnerving for all.
Arriving in Toronto like a rock star...I got off early so I could take a picture of Sharon as she disembarked
Now going into the custom's area of the Toronto airport. Things really changed on the custom's side from what it was when I use to travel during the NATO and ABCA meetings. This would have really saved a lot of time back then.
Click here for back to Quick Links
10 November
Window seat for Sharon.
De-Icing before we take off
Click here for back to Quick Links
10 November
San Francisco by night-from the airplane of course
Arriving
Our hotel room at the Donatello-in the washroom, that is not a reflection on the mirror, that is a TV in the mirror!!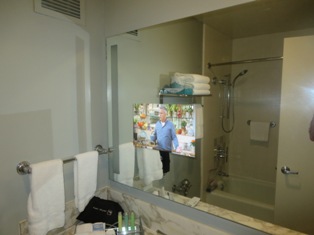 So by the time we got things sorted out, we went out to eat at Honey Honey (Breakfast/Lunch place). We went there three times and twice I had the Post Street Omelet - Amazing!!!
China Town was our first destination....after Union Square that is!!
This photo was taken from The Cheesecake Factory on top of Macy's Department Store. It shows (mainly) Union square. Interesting to IPhone lovers, the building to the top of the ice rink (the other corner of SAKs Fifth Avenue) is an Apple Store. The area got its name because it was once used for Thomas Starr King rallies and support for the Union Army during the American Civil War, earning its designation as a California Historical Landmark. At the center of Union Square stands the Dewey Monument, an 85-foot (26 m) column on which stand a 9-foot (2.7 m) statue of Nike, the ancient Greek Goddess of Victory. The monument is dedicated to Admiral George Dewey, a hero of the Spanish-American War for his victory at the Battle of Manila Bay in 1898. The monument was dedicated in 1903.
In Macy's they were getting ready to celebrate Christmas and the arrival of Santa. BUT, if you look closely, you just may see Santa trying out the chair for size
Next came the walk to Chinatown. I am not saying that the streets are hilly...but we learned to deal with them and we learned to take a break every now and then...as a note, I told Sharon she could not stop there but she is such a breaker of the law...stopping in a No Stopping Tow-Away Zone!!!
A beautiful church on our way. Église Notre Dame Des Victoires is a Roman Catholic church in San Francisco, California. The church was founded in 1856 to serve the French Catholic immigrants during the Gold Rush. The architectural model for the church is the Basilique Notre-Dame de Fourvière in Lyon, France. In 1887, Pope Leo XIII signed the decree placing Eglise Notre Dame des Victoires under the charge of the Marists and giving it the designation of being a French National Church.
The church building was rededicated in 1915 after rising from the ashes of the 1906 earthquake and great fire. In 1984, the church was designated as a historical landmark.
The church remains an important center of San Francisco's French community: it is located adjacent to the city's "French Quarter" centered on Belden Place and regularly conducts a Sunday mass in French.
Chinatown centered on Grant Avenue and Stockton Street in San Francisco, California, is the oldest Chinatown (and "original" Chinatown) in North America and the largest Chinese enclave outside Asia.  Chinatown is an enclave that continues to retain its own customs, languages, places of worship, social clubs, and identity. While recent immigrants and the elderly choose to live here because of the availability of affordable housing and their familiarity with the culture, the place is also a major tourist attraction, drawing more visitors annually than the Golden Gate Bridge.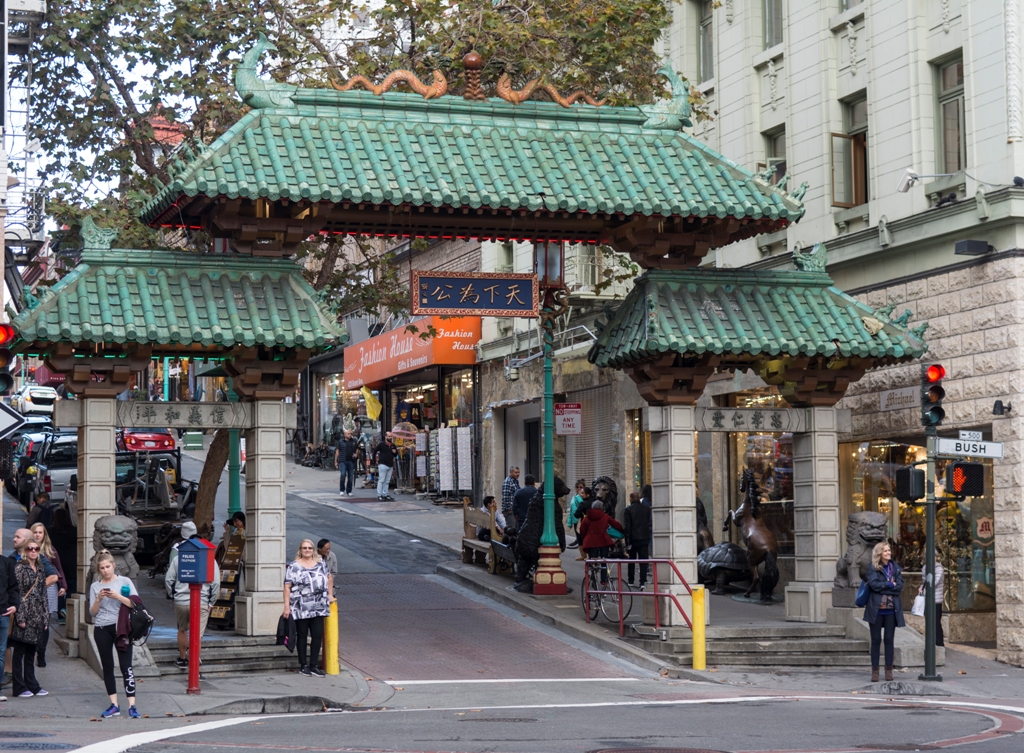 Notice the name of the street "Bush Street". In 2009, Timed with the Inauguration of Obama, Bush Street signs in San Francisco were changed to Obama down the entire length of Bush Street from Presidio to Battery.
Looking down the center of Chinatown
Here I am pictured with my friends...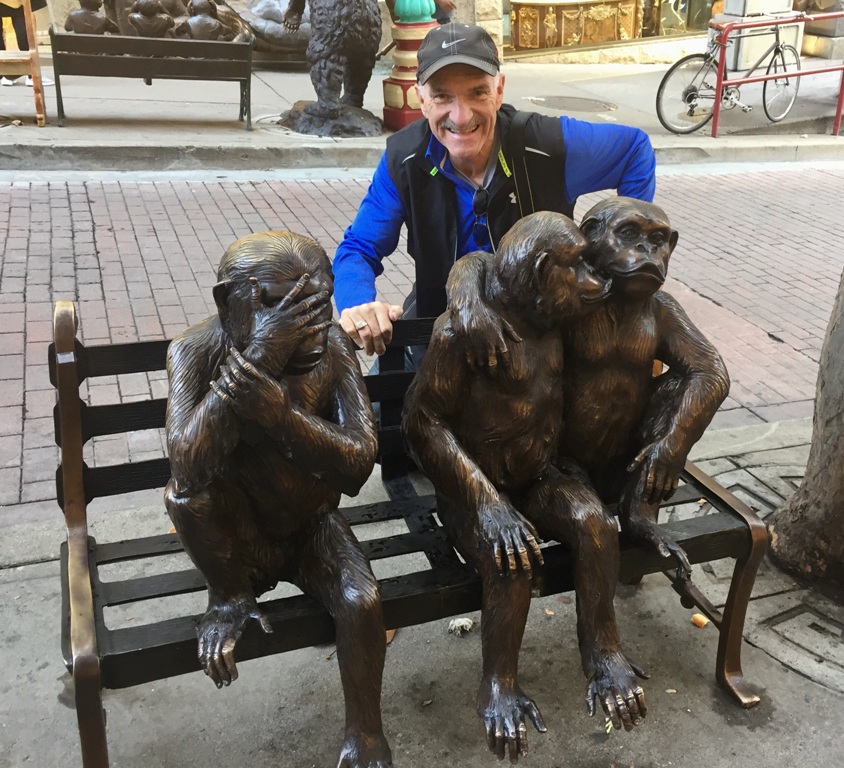 And Sharon with her protection, she's the lioness
One of the stores that was "supposedly" going out of business was this beautiful hanging lamp. Sharon was so taken by it she went in the store to check it out and seek out the price (obviously not for our home ;)) $2,000 USD
Bruce Lee was born in San Francisco and spent his first few months in a boarding house in Chinatown with members of the Mandarin Theatre (his father was one of their comic actors). Another now dimly remembered fact about him is that just over a decade ago, Time put him on its list of the 100 most important people of the 20th century, alongside such iconic company as Muhammad Ali, Che Guevara, and Mother Teresa. 
We stopped for a meal - Chinese obviously. It had to be the worst supper of the whole trip
On our way, we noticed some really smart stairs. Love when things are done-up this way
Now a lot of you are wondering...where did he leave his car? At home, at the Kingston airport? How will he know if when he gets back, if it will still be there? Well, Lincoln has an app that lets me monitor where my car is located. It also gives me the mileage and gas level. So I know it is still at Norman Rogers Airport and when I further clicked down, it gave me my kms. Everything was fine for the whole trip!!
Click here for back to Quick Links
11 November
Saw this on Facebook and really love it. Thought I would also share it here-bu-the-way, that is not me who posed for this picture!!! It is obviously a UK Soldier given how he is holding his rifle.
We started off the sightseeing with a Hop-on Hop-Off bus tour. We took the package for two days...though in all honesty, we could have used a three day package because, included in the package was a night tour and a walking tour -which we never used. The time change was playing a little havoc with us and the nights came quick. As for the walking tours, as much as I would have liked to go, it just didn't fit into our schedule of things we wanted done.
During the tour we saw the city hall. The structure's dome is taller than that of the United States Capitol by 42 feet.  Its dome, which owes much to Mansart's Baroque domes of the Val-de-Grâce (church) and Les Invalides in Paris, rises 307.5 ft above the Civic Center Historic District. It is 19 ft higher than the United States Capitol, and has a diameter of 112 ft, resting upon 4 x 50 ton and 4 x 20 ton girders, each 9 ft deep and 60 ft long. We were told during our tour that the top of city hall that the gold detailing is 23.5 karat gold leaf finish.
Fun Fact: The wedding of Joe DiMaggio and Marilyn Monroe took place here. DiMaggio grew up in SF's North Beach neighborhood. The couple is famous for taking a picture outside Saints Peter and Paul Church in North Beach after their court house wedding (in an attempt to show his family they got married in that church).
The Golden Gate Bridge is one of the most internationally recognized symbols of San Francisco, California, and the United States. It has been declared one of the Wonders of the Modern World by the American Society of Civil Engineers. The Frommer's travel guide describes the Golden Gate Bridge as "possibly the most beautiful, certainly the most photographed, bridge in the world." It opened in 1937 and was, until 1964, the longest suspension bridge main span in the world, at 4,200 feet (1,280 m). There will be more pictures from different perspectives as the day (and week) progresses.
This is a picture of Broadway and Kearney Street going north which would bring you to Coit Tower (I'll visit that one later). Notice the incline. It was not an easy climb up (yes, it seemed a climb) which I eventually walked up Kearney Street to Coit Tower.
We landed at Fisherman's Wharf. San Francisco's Fisherman's Wharf gets its name and neighborhood characteristics from the city's early days of the mid to later 1800s when Italian immigrant fishermen came to the city by the bay to take advantage of the influx of population due to the gold rush. One, Achille Paladini, found success wholesaling local fish as owner of the Paladini Fish Company, and came to be known as the "Fish King". Most of the Italian immigrant fishermen settled in the North Beach area close to the wharf and fished for the local delicacies and the now famed Dungeness crab. From then until the present day it remained the home base of San Francisco's fishing fleet. Despite its redevelopment into a tourist attraction during the 1970s and 1980s, the area is still home to many active fishermen and their fleets. Once there, we also went into Hard Rock Cafe.
Though called after "fishermen", there seemed to be a lot of high-end boats out there!
To see enlarged directory of Pier 39, click here
PIER 39 is committed to the preservation and conservation of the San Francisco Bay's natural environment by encouraging, creating and supporting ecological education, responsible consumption, development of renewable energy sources and addressing environmental issues. PIER 39's recycling efforts help divert more than six million pounds of waste material from local landfills each year. Along with cardboard, mixed paper, plastic, glass and aluminum, PIER 39 offers an organic/wet garbage composting program for its full-service restaurants, resulting in more than two million pounds of food waste recycled annually. PIER 39 also recycles 100 percent of its landscaping waste. A portion of this recycled waste is returned as fully composted material and incorporated back into the soil.
Another small view of where we were. The tall circular building in the middle of the picture in the distance, is Coit Tower (more on that later)
Here was a stand-up magician putting on a show for the audience.
We went for lunch at Luigi's and it was good...
As Sharon was asking...why aren't they going on the other "vacated" docks?
To hear the sea Lions click here
Out in the distance, is the infamous, Alcatraz-though we will be talking about that later
USS Pampanito (SS-383/AGSS-383), a Balao-class submarine, was a United States Navy ship, the third one named for the pompano fish. She completed six war patrols from 1944 to 1945 and served as a Naval Reserve Training ship from 1960 to 1971. She is now a National Historic Landmark, preserved as a memorial and museum ship in the San Francisco Maritime National Park Association located at Fisherman's Wharf. For those of you interested in the Submarine, Sharon and I do not like confined spaces so it was an easy decision to forgo this adventure.
BUT, she does look good in the poster
We visited a place called BOUDIN CAFE and had a coffee and dessert. Of note here is the bread that is being transported from the bakery throughout the store to the restaurant and other areas where they sell the finished product. This beautiful building is the place to see the bakers at work, dine with a view or in a casual cafe, and learn the full story of our famous sourdough bread and the city that made it possible.
As we walk around closer to the Hotel, I am trying to show you how hilly San Francisco really is when you are there. We see it in the movies, but let me tell you, when you are walking it or trying to maneuver around, it is hilly. When I was driving the car, have you ever went over a mound or hill and were unable to see the other side where the car front would end up? Well, that happens a lot in San Francisco. I was not comfortable driving in that city.
After we arrived back at the hotel, I took a walk to Lombard street. Lombard Street is an east–west street in San Francisco, California that is famous for a steep, one-block section with eight hairpin turns. Stretching from The Presidio east to The Embarcadero (with a gap on Telegraph Hill), most of the street's western segment is a major thoroughfare designated as part of U.S. Route 101. The famous one-block section, claimed as "the crookedest street in the world", is located along the eastern segment in the Russian Hill neighborhood. The street was named after Lombard Street in Philadelphia by San Francisco surveyor Jasper O'Farrell. We visited Lombard street later in our week during the day rather than dusk.
This was taken from the top of Lombard Street (without tripod) and in the distance you see Coit Tower and to its right, you see Bay Bridge. The San Francisco–Oakland Bay Bridge (known locally as the Bay Bridge) is a complex of bridges spanning San Francisco Bay in California. 
Here is a sight of Bay Bridge during the day
Click here for back to Quick Links
12 November
On the second day, we still took the Hop-On and Hop-Off tour bus, but this time we got off the bus at locations that interested us.

The first placed we stopped was at the Painted Ladies. One of the best-known groups of "Painted Ladies" is the row of Victorian houses at 710–720 Steiner Street, across from Alamo Square park, in San Francisco. It is sometimes known as "Postcard Row." The houses were built between 1892 and 1896 by developer Matthew Kavanaugh, who lived next door in the 1892 mansion at 722 Steiner Street. This block appears very frequently in media and mass-market photographs of the city and its tourist attractions and has appeared in an estimated 70 movies, TV programs, and ads, including in the opening credits of the television series Full House.
Next stop we got off at was around the Golden Gate Bridge. I climbed a little while Sharon took a took a tour of Sausalito. We would visit this place later.
I climbed up to Battery Spencer Viewpoint. Once I had climbed up the hill and looked down, I found that there was an easier way to access the hill than the way that I took-but of course!! Underneath the bridge, where bridge meets land is an underpass. I took that to return.
Next place we got off is Palace of Fine Arts which is a monumental structure originally constructed for the 1915 Panama-Pacific Exposition in order to exhibit works of art presented there. One of only a few surviving structures from the Exposition, it is still situated on its original site. It was rebuilt in 1965, and renovation of the lagoon, walkways, and a seismic retrofit were completed in early 2009. In addition to hosting art exhibitions, it remains a popular attraction for tourists and locals and is a favorite location for weddings and wedding party photographs for couples throughout the San Francisco Bay Area and such an icon that a miniature replica of it was built in Disney's California Adventure in Anaheim.
You can not grasp how beautiful this place is without being there and seeing it for yourself
Sharon the animal lover is taking in the sites.
This place is big
We got back on the bus and took it to ...Fisherman's Wharf. The bus in the background is what we were taking. It is called the Big Bus. They also developed an app that lets you see where the bus is on the route, so when you get off, you see where the next one is so you don't miss it. Innovative.
We proceeded to go for lunch. I was still in the mood for Pacific Salmon. We went to a fish place called Fog Harbor.
I ended up with Fish and Chips. You would not believe it!!! They only served Atlantic Farmed Salmon...Here is us with our dessert
Click here for back to Quick Links
13 November
Yes, today is a visit to the famous Alcatraz
A View from Alcatraz of San Francisco
Once we were finished with Alcatraz, we took a taxi and headed back to Union Square
To see something spectacular that we filmed about the Tram click here
Click here for back to Quick Links
14 November
Today we are going to drive around and see the area from a different perspective. Sharon, rightfully so, is a little worried as we have seen the way that some of the people drive. Also, the center of town (which is where we were) has a lot of one ways and we are sure happy that the vehicle came with GPS. Here Sharon is waiting for the car to be brought down. They charged $40 USD a day for parking.
To see a panorama that I took of San Francisco from Hawk's Hill Click here. It is a larger file which is why I am giving you the option of seeing it or not.
This is the smaller version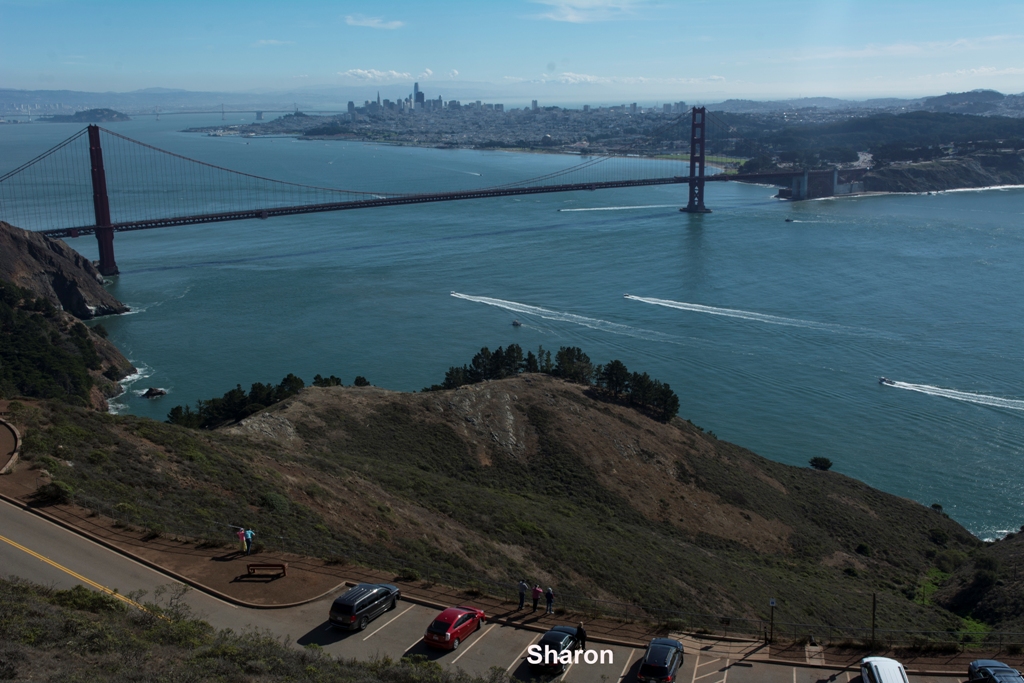 View from Hawk's Hill towards the north
I saw this lighthouse in the distance (found out the name-Point Bonita Lighthouse) that I wanted to go and visit. You can just make it out on the far left of the picture. Point Bonita Lighthouse is a lighthouse located at Point Bonita at the San Francisco Bay entrance in the Marin Headlands near Sausalito, California. Point Bonita was the last manned lighthouse on the California coast.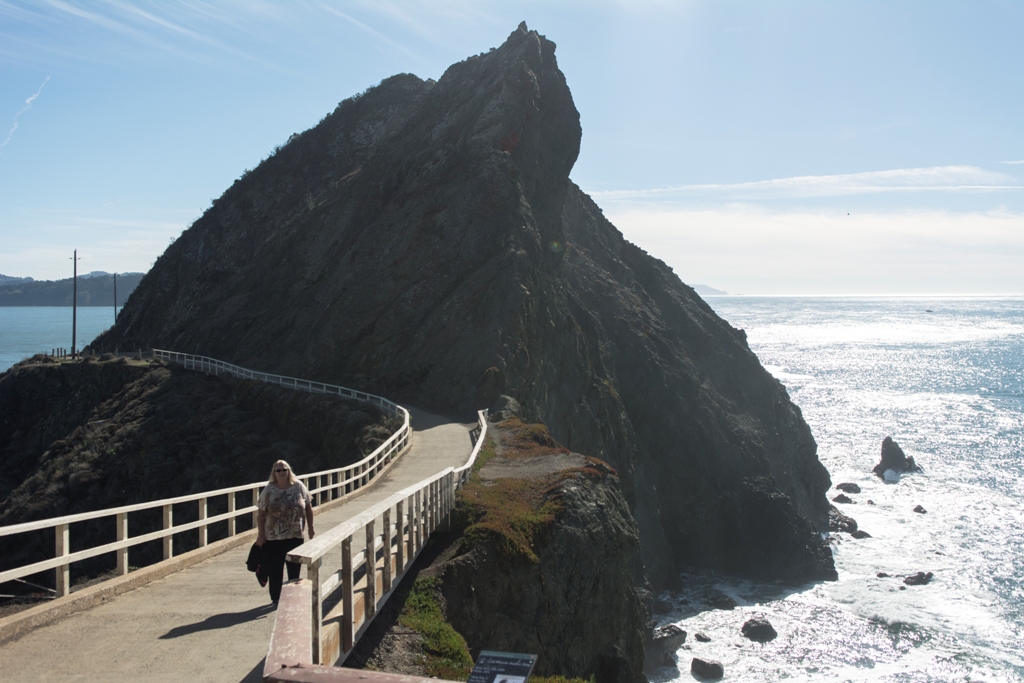 We walk all the way there and it was closed for tourists. Only open on the weekends during the winter months.
While on this side of San Francisco, we decided to go to Salsolito. It was starting to be a warm day, so we put down the roof of the car. Here is the neat convertible that I got for the 12 day trip. CLick Here to see a video that SHaron took of me putting down the roof. Neat.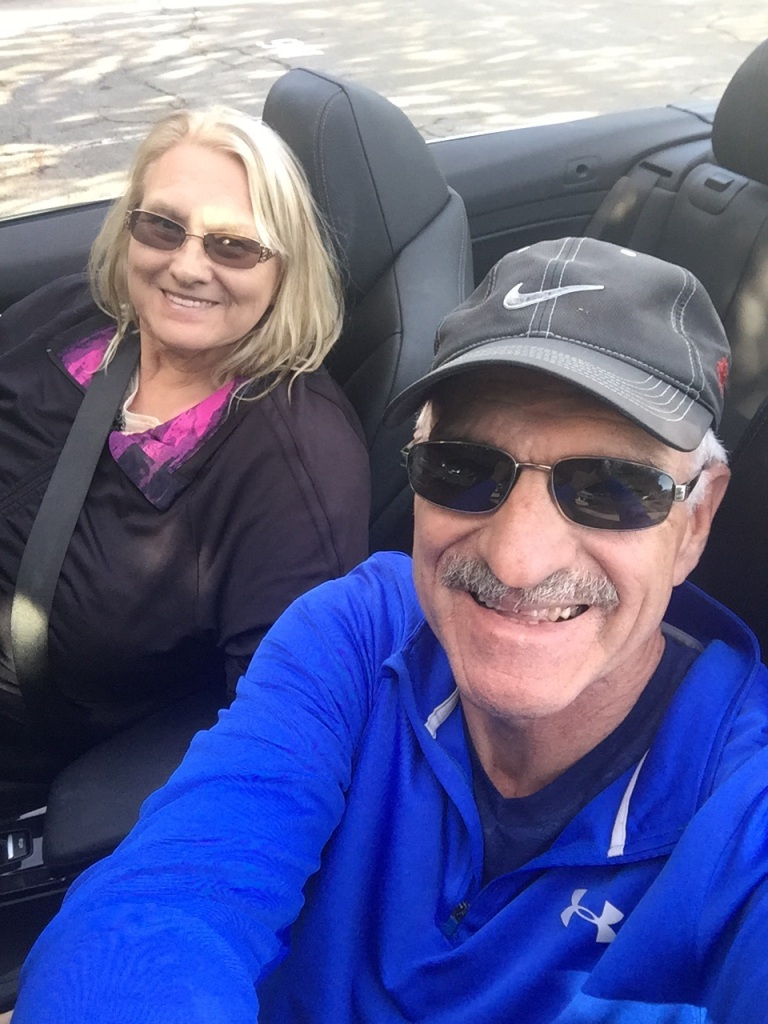 Center of town in Salsolito
The plaque reads
We ate right across the street at a Hamburger place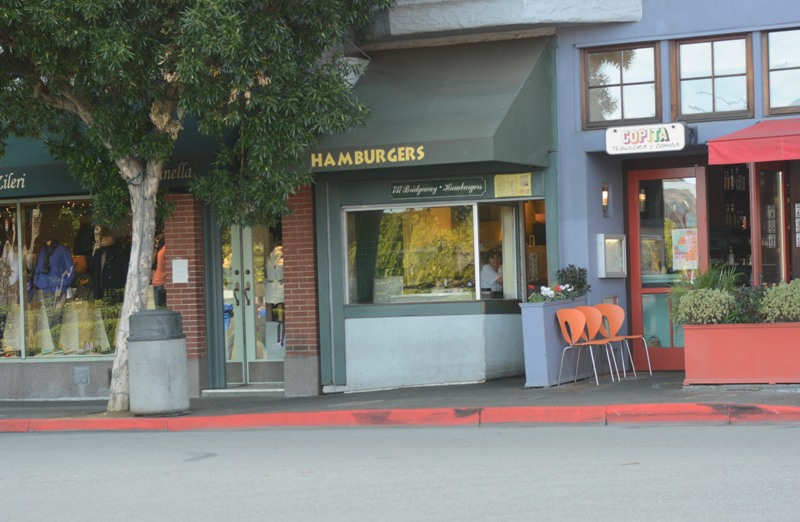 From there we eventually ended up on Lombard Street-this time driving down.
After a day of driving, Sharon and I went back to the hotel and had a beer...well, maybe more than one!
Click here for back to Quick Links
15 November
Sharon and I went to Lombard Street (again) and I wanted a picture in the daylight and from the bottom. Well, when we got there, they were filming a movie.
This is one of the trees, half way up Lombard Street's Crooked street.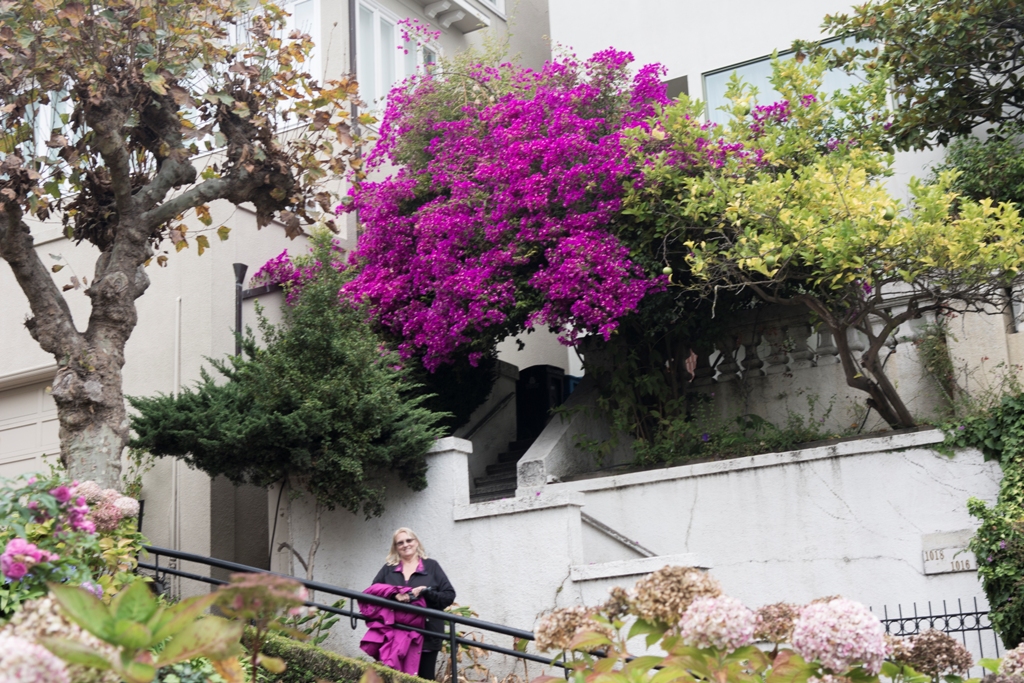 Then we took the cable car-In case you're wondering, we had two tickets (I wouldn't have made Sharon walk)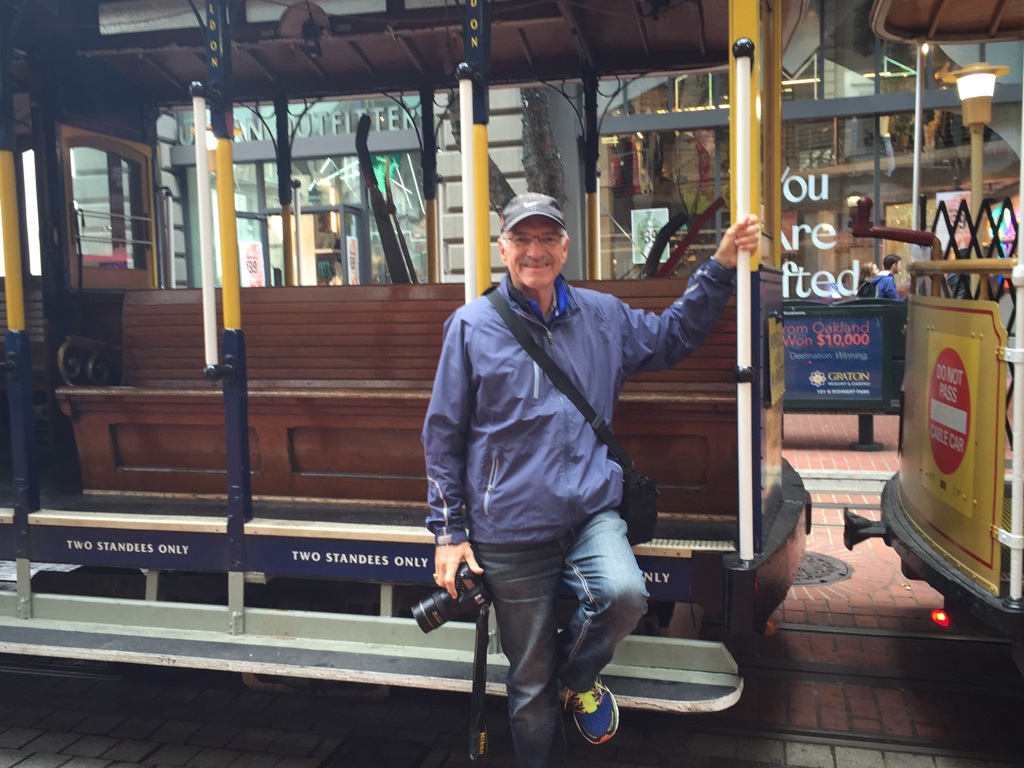 After all that hard work and already being at Union Square, somehow, we ended up at the Cheesecake Factory.
Some people that we talked to said that we were very lucky to get a seat by the window. I think it was all timing. No one was around, we sat down and the place starting filling up. In fact, when we were just finishing, a lady was "waiting"...hey, a lady in waiting lol, for our table.
Animals know that Sharon has a good heart and the flock to her...get it?
To be able to eat Cheesecake, you have to start healthy
Sharon had Craig's Crazy Carrot Cake Cheesecake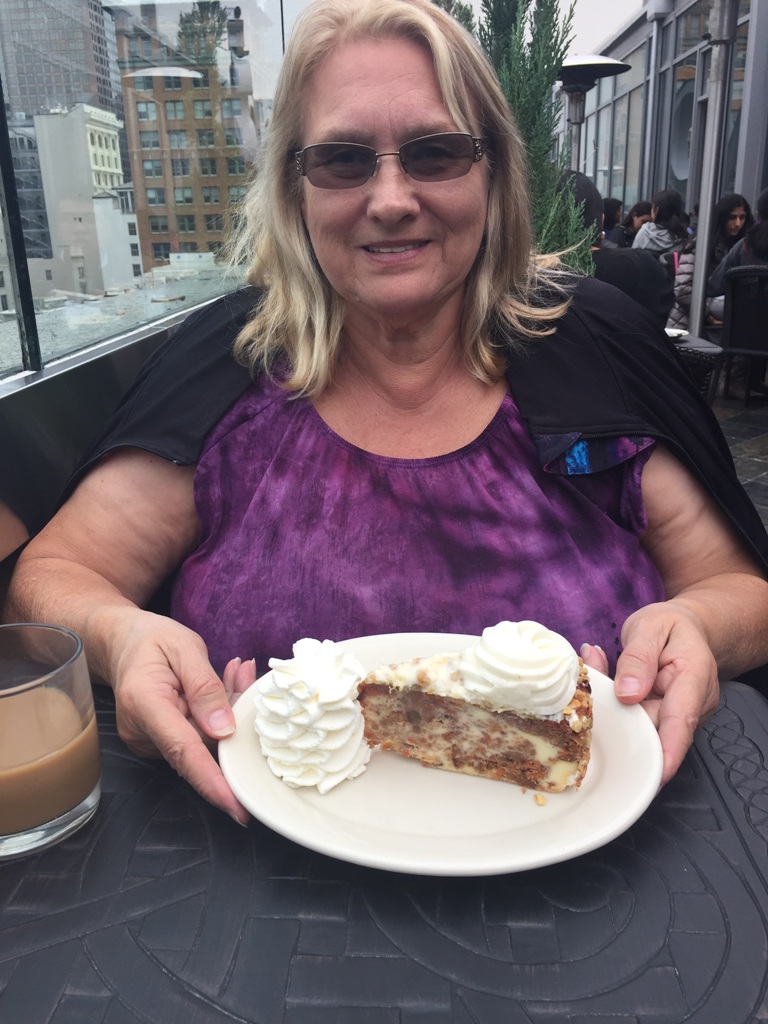 I had Lemon Raspberry Cream Cheesecake
There were other choices
Well, having eaten we couldn't just leave Macy's without some purchase. Sharon ended up with a Michael Kors Purse
Click here for back to Quick Links
16 November
It was a rainy day in San Francisco, so we limited our excursions to the immediate area. In union square a man asked if we wanted him to take a picture of us (instead of me taking one of Sharon). I said sure, (I was ready to run after him if he took off), but he had a different agenda. He said if we liked the pictures he took to show our appreciation with an offer of money it would be appreciated. So we did.
The temptation was behind us...literally-The Cheesecake Factory!!!
Once I left Sharon back at the hotel, the rain had stopped so I decided to walk to Coit Tower.
This is Saints Peter and Paul Church. a Roman Catholic Church in San Francisco's North Beach neighborhood. Located at 666 Filbert Street, it is directly across from Washington Square and is administered by the Salesians of Don Bosco. It is known as "la cattedrale italiana dell'Ovest", or "the Italian Cathedral of the West", and has served as the home church and cultural center for San Francisco's Italian-American community since its consecration.
Well, night time approaches and so does our date with the play "Aladdin". As a note, it was a fantastic show. Now we need to see the Lion King. The movie theatre was less than 2 KM from the hotel and we were thinking of walking there. But it would require us to walk through the "Tenderloion" district of San Francisco.
The Tenderloin took its name from an older neighborhood in New York with similar characteristics. There are several explanations of how that neighborhood was named. A popular explanation, probably folklore, attributes the name to a New York City police captain, Alexander S. Williams, who was overheard saying that when he was assigned to another part of the city, he could only afford to eat chuck steak on the salary he was earning, but after he was transferred to this neighborhood he was making so much money on the side soliciting bribes that now he could eat tenderloininstead. Another version of that story says that the officers who worked in the Tenderloin received a "hazard pay" bonus for working in such a violent area, and thus were able to afford the good cut of meat. This is the story we heard on the Hop-On Hop-Off tour bus.
This was funny...we lined up to get our pictures taken with our phones. The couple that would go to get their picture taken, would pass their phone to the people behind them and "they" would take the picture...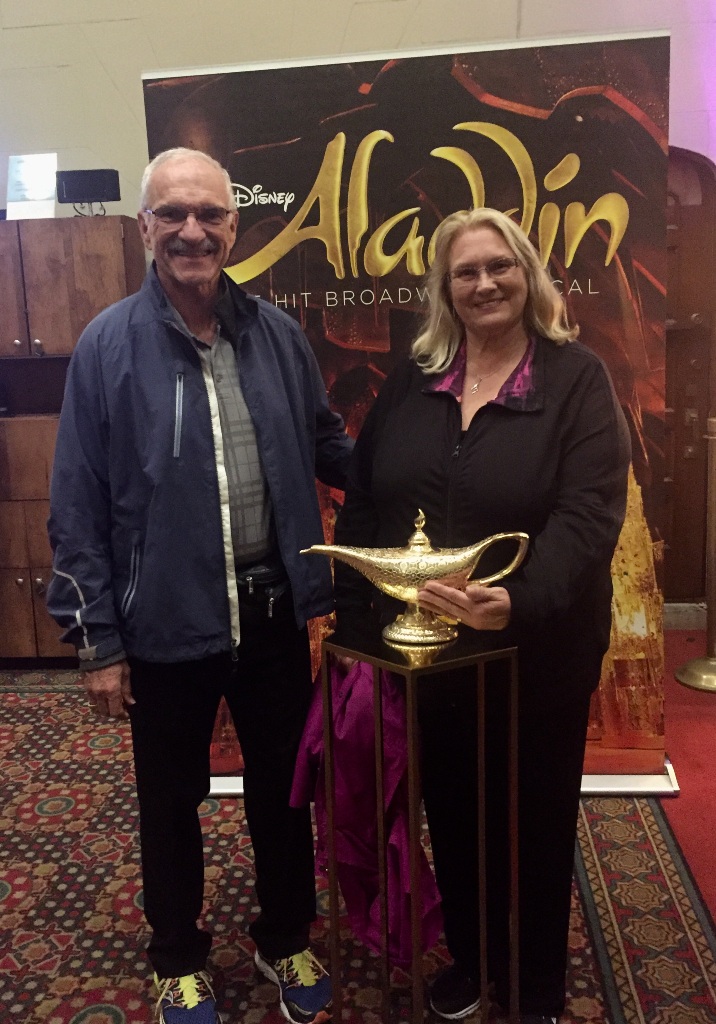 Click here for back to Quick Links
17 November
This was a Friday and we were vacating the Donatello for the last time. This place was fantastic and I will be writing a letter to the hotel as well as Shell Vacation for Veterans. We left with Monterey as our goal. We were staying at the Monterey Tides for the evening. I had booked using Group-on but I could not secure an "Ocean View" and was only able to get a "city view". When we finally arrived at the hotel, the manager had upgraded us to an Ocean View and later sent us a bottle of wine in celebration of the 41 years anniversary. Classy.
The one thing about driving the Highway 1 in California is that you are tempted to stop at each viewing area and park. The views are something that we are not use to and are really amazing. In those occasions I was wishing I brought more than my 17-55 lens...These photos were taken at a place called Pescadero State Beach (Pescadero Marsh Natural Preserve)
The path behind Sharon is the one that I would walk up to take the other pictures
The beach juxtaposed with the rocky cliffs and my wife waving from the sandy cliffs below.
Down below, we were able to capture some birds, rocks and ocean...and I am loving it
Well, on the way to Monterey Tides (our hotel) we were undecided whether we should stop for breakfast, lunch or supper...our bodies were confused and we hit this restaurant that took that confusion away.
Arrived at our hotel

Our room was just behind our car. Sharon is at the wall taking pictures.
Once that was all done, it was 4PM somewhere and we went for a drink. They had lounge chairs at all their big windows overlooking the water. Just a lovely view and quiet.
Sharon caught a nice sunset
I was waiting for the perfect sunset over the hills, with reflections on the water...it never really came. Sharon, however did get a picture of me waiting for that moment
At night we went and had supper at the hotel's restaurant called "Vizcaino"
This is at all tables in California
A photo by the fireplace is always nice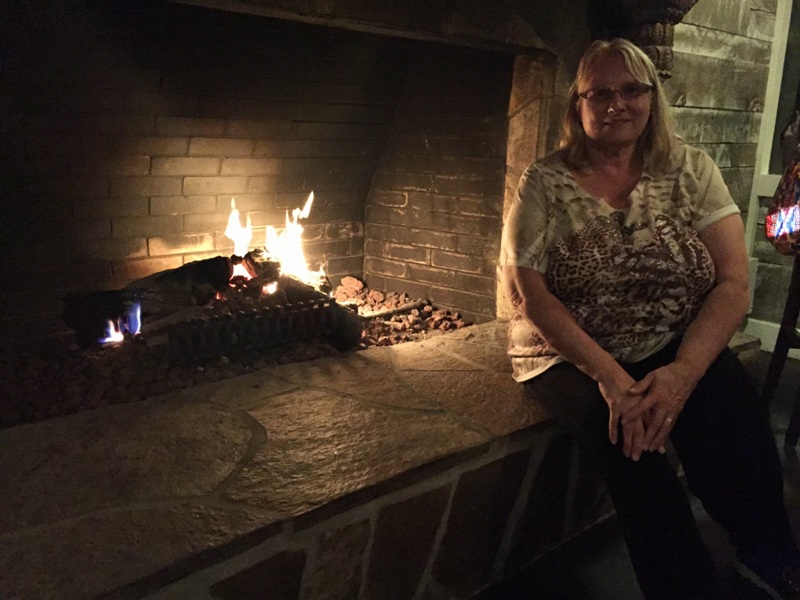 The manager sent down this bottle of wine and it was so nice...both of her to do that (I thanked her afterwards) and so was the wine ;)
This was at the front door or the hotel. The hotel accepts animals and as you register them, they place the dog's name on the board
Sharon saying good bye to the Ocean View as we get ready to leave
Our room
At night we were able to see the Monterey Peninsula and the famous Lovers Point which we would visit tomorrow
Click here for back to Quick Links
18 November
Here is Lover's Point...
I was taking a picture of Sharon (above) and she was taking a picture of me...
Well, off now to do the 17 mile drive (a link to a website that talks about the drive and what is on it)
This little boy golfer sculpture sits on a bolder at the Pebble Beach Golf Links in Pebble Beach, California. The plaque says: 'Just Like Dad By Walt Horton 1997'
Just above Sharon's head is the famous 18th hole at Pebble Beach. There was a pro/am tournament going on the day we went.
Pebble Beach pro shop
We stopped for lunch at Carmel-at-the-Sea
You don't see it in Sharon's picture but if you look at mine, on the right side of the table is a white disk-type of item. It is really a light. When you want to order, you press the light and the waitress comes. When you are finished, you press the light and she'll bring you the bill. The logic, so she says, is not to rush the patrons. Not a bad idea.
When we left the 17 mile drive, we stopped at every viewpoint that was available...until Sharon said "isn't that enough"? Well, I can't get over the look of the ocean lapping the rocks...just a great view and lovely sound
We stopped at Rocky Creek Bridge. Rocky Creek Bridge is a reinforced concrete open-spandrel arch bridge in California, built in 1932. It is located in Monterey County a few miles south of Carmel-by-the-Sea and just north of the more famous Bixby Creek Bridge on the Pacific Coast Highway. As its name implies, it spans the Rocky Creek. When you call it up, it is known as Bixby Creek Bridge.
This next picture is of a place called Point Sur. Pt. Sur lighthouse and its supporting light station buildings, now a California State Historic Park, stand atop a dramatic volcanic rock just off-shore in Big Sur, California. This historic aid-to-navigation has a modern aero-beacon which still guides ships along the treacherous Central California Coast. On the National Register of Historic Places and a California landmark, Pt. Sur can be visited by guided walking tours year round.
Well, from there we were on our way back to another hotel in San Jose
Beautiful hotel with everything in it designed with nautical in mind.
We left there on the 19th and headed to San Francisco Airport. Our hotel was actually in the City of Burlingame-about one mile from the airport.
Click here for back to Quick Links
19 November
Of course we are right beside
Right behind the hotel was the airport landing strip. We could not hear the airplanes but we sure could see them. Here were two planes landing, nearly together, unbeknownst to us there were two landing strips close together. I was wondering if it was another AirCanada plane trying to land on the taxi strip ;) I had the camera ready!
Always strange to see someone on the water and an airport nearby. The water (by the way) was not that clean.
Behind the hotel, near the water, there is a long path to walk, bike, run etc. We walked and stretched our legs.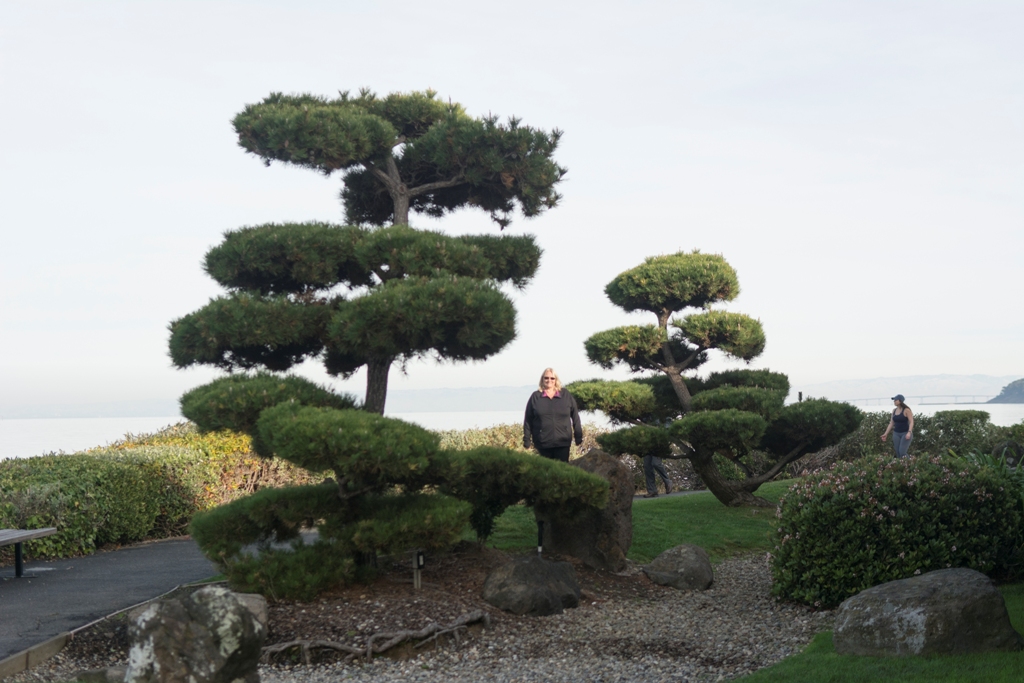 Here is a picture of a flower that Sharon told me to take. There were plenty of those around so not sure why...but as a good husband...here is the picture of the Bird of Paradise
Well, since it was our last night before flying out on the 20th, we decided to celebrate our anniversary at that time.
Sharon had left her tablet in the hotel room so I went and got it for her and inserted my card in the tablet so when she'd open it, she would receive the card.
Click here for back to Quick Links
20 November-our 41st Anniversary
Don't know where this photo of a bird came from...but here it is...the Bird Santuary..it is an Egret
Click here for back to Quick Links
21 November
What is not coming up as the 20th because it really happened after midnight, is a fuel spill from the refueller caused a 2hr departure delay from San Francisco which would snowball into delays in Toronto...more on that later.
Anyways, we arrive at Toronto Airport -2 hours late-our original flight to Kingston which was originally departing at 0855hrs -well, it was now 0830 hrs so no way were we going to meet those flight timings. Our flight to Kingston was changed to 1605 hrs. So this was going to be a long wait. We got our tickets and they gave us $20 each for lunch. Good, but it was still going to be a long wait. We went to Mill Street Brewery for lunch (later that morning-trying to stall).
Then we saw this
Then this
Air Canada gave us another $20 but we were getting tired. Sharon found a capsule but only near the end..it finally was vacated so she could try it
She's giving the thumb's up!!
She looks tired. There was another delay as the flight was coming from Connecticut and the plane had to be towed from the US/Canadian Customs side...
We were finally boarding-Sharon got a window seat
Oh wait..we are having another problem. The mule, that charges the airplane broke down and needed to be pushed out of the way
We finally arrived in Kingston around 7PM 21 November-WHAT AN ANNIVERSARY
Click here for back to Quick Links