SNOWBIRD trip to North Myrtle Beach, South Carolina, USA

30 Dec 2016 to 1 Apr 2017
This trip seems to be the same as many of the others from first perspective, but-there are some nuances that make it a very different trip. You are sure to enjoy the pictures as we take you on some of the more fun adventures.
As a side note also, Sharon and I celebrated our 40th Wedding Anniversary on the 20th of Nov 2016 and a lot of this trip was dedicated to our time together and the friendship, love, bond and family that we have developed over time.
------------------------------------------------------------------------------------------------------------------
January 2017
Pinehurst Trip
We started packing days before our trip. There were so many things that we knew we would need and based on our experience, there was a lot more that we knew we would not need. We were happy to have bought a new vehicle-and SUV-with loads of room and the smoothness that only a Lincoln can provide ;) Our plan was to leave on the 30th of Dec and arrive at Pinehurst on New Year's Day where we would meet Frank and Milli.
Day 1 on the left and day 2 on the right. As you see, we are not much for long drives. We stay at Hampton Inns along the way.

Arrival


What a majestic Place and something I can remove from my bucket list. Here I am with Payne Stewart's statue along with Frank there also




Oh ya...and we played golf. Our golf carts were "inside" so never wet and always ready.!!!

We also played Barefoot - forget which course this is (there are four of them)


. North Myrtle Beach (Pre-cruise)
Some think that you go to Myrtle Beach simply to go golfing.. ..Sure, we do, but there is also:
The fabulous sunrises

And the great walks along the beach


The views of the boats doing their jobs

It is always entertaining to see how the sun and clouds mix

After a great sunrise on the 6th of January, Sharon was well enough to get out

What a good walker. She does her stretches before going for her walk


As you can see, it is a bit chilly, but no snow!


A sunrise from Sea Mountain Blvd in Cherry Grove portion of North Myrtle Beach

Sharon loved feeding the birds. Of course we had to buy the bread to do this...but watching her and seeing the smile on her face to do this...priceless

Another day where Sharon strolls along the beach and decides to venture into the Atlantic.


A boat upon the waters

Sharon was talking with all the animal owners

On 23rd of January after the sunrise, Frank Smith and I went to TPC Myrtle



This is the 18th hole in front of the clubhouse.


Our friends Frank & Milli were out on the beach having a stroll

+
Every now and then we see a pod of Dolphins

Milli and Sharon walking and then doing what they do best...talking. Milli is hidden by the trees but, believe me, Sharon is not talking to herself ;)

Of course Frank and I went out golfing




A nigh-time shot looking south from our Condo

February 2017
We went to the Midtown Bistro for a supper. It is suppose to be one of the best places in NMB - Valet parking and all that.
The four of us also went to the Calvin Gilmore Theater we watched Time Warp.

Yes, the hat suits you Milli

These have got to be the most comfortable seats we have sat in. If only all venues would adhere to these type of seats



I'm the king of the castle and you're the dirty rascal
Another sighting

. Carnival Cruise- 5 Days to the Bahamas (13 - 18 Feb) click here
. North Myrtle Beach (Post-cruise)
Going out for another walk

Frank and I enjoy a good round of golf - this was at Sea Trails (In all we have played another 25 - 30 golf courses this year) Last year we played 26 in total - all these are different courses. I think now we have narrowed it down to the courses we like and those ones we'll repeat. Like TPC, we played it twice this year.
But golfing can be dangerous sometimes...we see things like this
If there is one thing we love about the morning...it's the sunrise

A little midst in the morning produced this picture

Sharon was adamant to get her feet back in the water



On the 25th of Feb, my son, Matthew, his wife Lisa and their two girls (Jessika and Arianna) arrived
Click here for more adventures with Matthew and family
March 2017
Now we are entering the month of March after Matthew and family have left
Celebrating Frank and Milli's birthdays on the 6th of March (Milli's is the 5th and Frank's is the 9th)
Of course we golfed
The next day we saw a beautiful sunrise and some great dolphins - jumping out of the water
And "JUMPING" Dolphins
Again, Sharon and I went to the Carolina Theatre for another show
And two more pics to give you a sense of what we saw
Later we had a visit from Tom and Marigene who came from Prince George...Sharon was looking out the front balcony
Do you see her?
They arrived
Taking in the view already...can't say I blame them
They treated us to Molly Darcy's for supper
Once they left we had parasailing going on
Guess what I received during my stay in Myrtle? Could that be a 3 wood?
We had a great sunrise the next day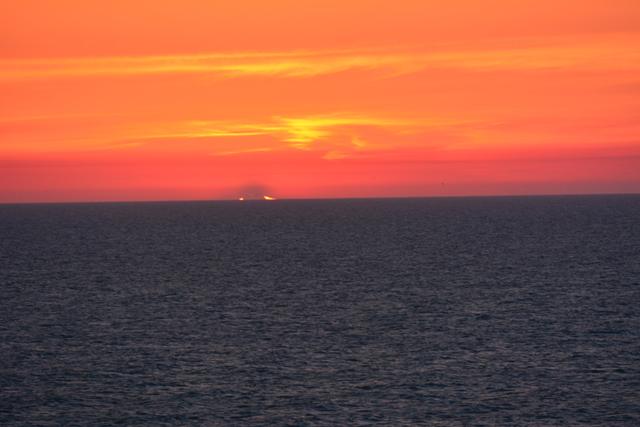 Tom went for a walk with me
How many notice Sharon in the background "photo-bombing" Tom and Marigene's picture...what a photo hog ;)
Marigene and Tom had a few gifts for us
We drank the wine straight away...it was really good!!!
And also some Parker's Peanuts the story of Parker's is interesting click here
Then he cooled off in the water...Frank was on his condo balcony looking on (he's on the second floor)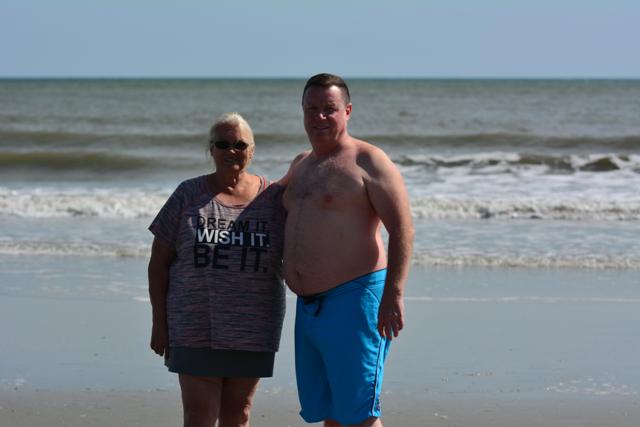 I think this sequence of shots is funny. Especially near the end (last 2 before the end) where I is staring down the wave...daring it to hit him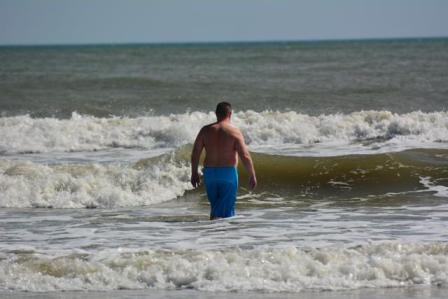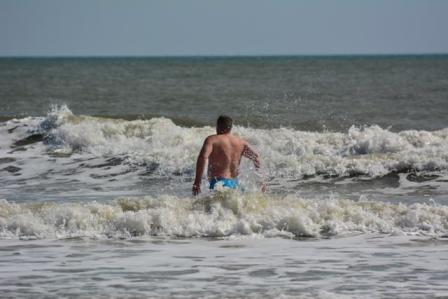 The wave won!! His face tells the story
Marigene, knows her limits and is waiting to either do CPR or just be supportive...
Doesn't he look like someone that says...."Is that all you got"? Hahaha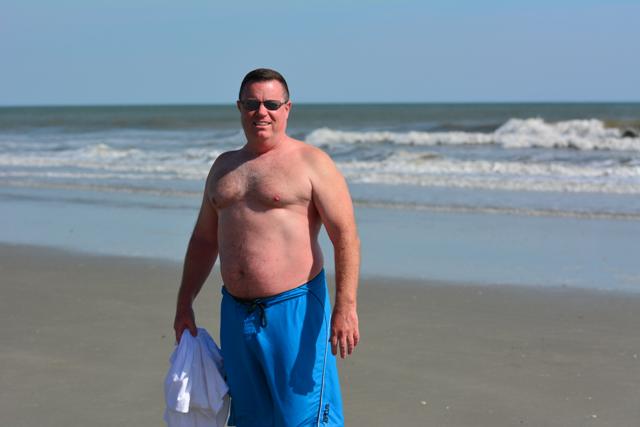 The face of women around the world is the same...it says "REALLY"!!!
We had a few gifts for them
A Tim Horton's toque - but of course
That night we had a supper and introduced them to Frank & Milli. It was "touch and go" as Milli and Frank are Democrates and Tom and Marigene are Republicans.
That night we had a great moon
The next day was an early St Patty's Day celebration in NMB. Last year we were in shorts and tee-shirt and this year we needed a jacket.
Sharon doing her "Flashing" technique....love it!!
We had to go to an Irish Pub for some Irish Coffee
A final view of the beach before leaving
Some pelligans were really close
A couple of other challanges thrown our way...hey! What is Frank doing with the "rabbit ears" over my head...
At the Wizard Golf course, I saw this...on the 18th hole -they most likely thought Sharon was in the foursome and wanted some bread
One of the courses we played Farmstead, has a portion of its course in South Carolina and a portion in North Carolina. For some it may not be an issue, but it seems for the Golf Cart person there are things that they can sell in one state and not in the other depending on the days. Go Figure.
Now we are waiting for Thomas and family - they are on their way
They call this a pit stop...not a lay over!!! Couldn't resist!!!
They Made it!!!
Click Here for more pictures of Thomas' Visit
Frank & Milli were walking up the stairs. Milli had to stop and, I see her reaching for her phone...did Norman call?
The happy moments of my time in Myrtle Beach...walking with my lovely wife
Sharon is busy feeding the birds
I went for an 8 mile walk
Frank and I were getting some nice weather to golf
We all enjoy our favorite Italian resturant in Myrtle Beach proper...Villa Romana Italian
Prince George Virginia
Tom and Marigene received us like royalty. Sean provided me with stories and updates on SpaceX. Unfortunately, no pictures of Sean as he was tasked with taking the pictures.

After some cake and coffee, we are off and saying goodbye.

. Our Trip Home
No pictures of our travels once we left Prince George. There was rain, snow and traffic. We have vowed to never pack so much stuff in our SUV again (As a side note, we seem to be saying this every year). We arrived safe at home on 1 April. No April Fool's there.