This was a Trip to Myrtle Beach 30 Dec 2013 to 20 January 2014
Next, we went down in Septermber to enjoy the weather and the beach....also a little bit of golf :) Click Here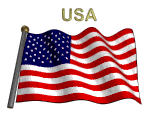 Sharon and I went right after the Christmas party at Le Chateau. Our goal was to spend New Year's Eve with John and Betty and then after a few days leave for Myrtle Beach. It was an enjoyable holiday with many great memories made with both John & Betty and George & Lynda. This time we drove down and for those of you considering it, we found the drive long.
Our first stop was Mt Jackson Virginia. We enjoy the great friendly card games...until someone loses
The first indication we have learned is the face goes from smooth, loving and full of fun to something like this:

And John didn't see it coming......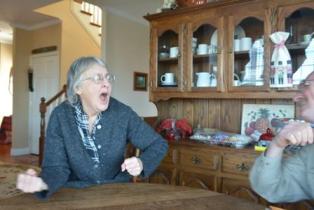 It is understandable that when many things are going on in ones life, that one tends to forget about where one puts their items. Knives in the fridge to also Knitting in the fridge. When I mentioned it to Betty, I guess her first thought was to illiminate the threat...me. As she heads for the knife drawer :)
But it was really nice to see their house all decorated for Christmas. They put a lot of love and effort into sharing this celebration with anyone willing to enjoy the season.
Betty & John have many trees adorning their house
Small Christmas gifts to friends
Yes, she missed you!!!
And you
And you
Between card deals, Sharon hits the tablet. Using her "Line" program that Thomas/Matthew gave us, we are able to keep ini touch with all the family. She loves this! And the dog! And cards! I am asomoewhere after the cats :)
A drink I prepared for my wife. Maybe it'll calm her nerves about leaving Kingston...
They live in such a beautiful home
Betty sitting by the fire place, enjoying her knitting and company. Such great hosts.
A little gift we found for Betty...it is "like" Betty...
After mass on News Year's Eve we went to one of John & Betty's friends for a meal and celebration of friendship. It just so happens that this gentleman, Lee (far left) was a greens keeper at one of the plush golf courses in the Washington area. He had more golf items that I could imagine if I tried.
They had a beautiful home. It is unfortunate that I could not take a picture of the river crossing we had to take that night to get there!!! But-once there, the windows, the beauty of the wood, the open concept...I loved it!!!
We left Mt Jackson, in the direction of Myrtle Beach, but given that George and Lynda were not feeling well, we were advised by John & Betty to take in some of the sights in Asheville, North Carolina. We researched it on the web and immediately decided that this would be a good decision to take. We left the next day (3 Jan) for Asheville. Given the roads and the driving conditions, we arrived at our hotel (Ramada) at 6:30PM. We had a pre-booked Christmas night-time tour at 7PM. We had some hustling to do!!
Here are some quick stats:
Baltimore Estate is a large private estate and tourist attraction in Asheville, North Carolina. Baltimore House, the main house on the estate, is a Châteauesque-styled mansion built by George Washington Vanderbilt II between 1889 and 1895 and is the largest privately owned house in the United States, at 178,926 square feet and featuring 250 rooms. Still owned by one of Vanderbilt's descendants, it stands today as one of the most prominent remaining examples of the Gilded Age, and of significant gardens in the jardin à la française and English Landscape garden styles in the United States. One thing that is not mentioned but they mentioned on the tour, was that the Baltimore is the second largest employer in Asheville, with over 2,000 employees. That merits a "WOW" in my books. (A note: upon research, I found that the Baltimore is really the 9th largest employer but they only have them listed at 1,000 (+) employees.)
The Christmas Night Time tour was great. We were not allowed pictures inside but here are a few from outside.
This is what greets you at the entrance
You then need to drive through this lighted entrance way
After parking your car and being shuttled to the Chateau, this tree is what you see. In fact, when you take the 3.5 mile drive off the estate, you must go past the chateau, and that is when you have the opportunity to take a picture.
This is the next day when we returned. Does not seem that impressive...but then again, when you remove your Christmas tree decorations at home, it does seem a little "unimpressive" doesn't it?
This is where I parked before taking the high ground. For those of you thinkinig why I did not do that last night? Well, in the night I did not see this vantage point. I really wish I had though :(
On the estate there are many buildings. It was a cold day. If you do not beleive me, Just ask Sharon as she freezes to be my model in front of these buildings.
Inside their wine shop.
After the tour we headed for Myrtle Beach. We arrived there around 11PM on the 3rd of Jan. We were tired. The following pictures are of some of the things we did during our time there.
This is the view we seen each morning.
Lynda gave George a hair cut
Notice how I am dress? It was cold going for a walk. But!! We were walking on the beach!
Where we were staying (with George & Lynda) was directly behind Sharon and we were the top floor-where you see light in the window.
Some of the days were nice, where we could go in shorts and enjoy the weather
Yes, Sharon inteded to place her feet in the ocean.
Sunsets were just beautiful
The company was enjoyable also (Sharon made me say that)
They cleaned up the beach every morning. They know where their money comes from :) Tourists and snowbirds.
George and Lynda coming back from one of their walks
On the 17th January, we departed for John & Betty's. We partied with them until the 19th and left for Kingston at that time. Heading into a snow storm (as we later found out). White out around Syracuse!!
At the John Bosco Catholic Church there was a big ceremony for one of their own who has become a deacon (this is an ordained minister of an order ranking below that of a priest.)
For those of you who did not know, John is a 4th degree of the Knights of Columbus (My Uncle Rolly was a knight of Columbas...I do not know where he stood in that order).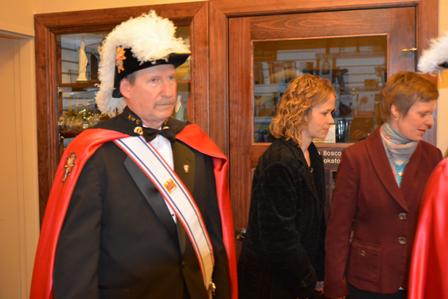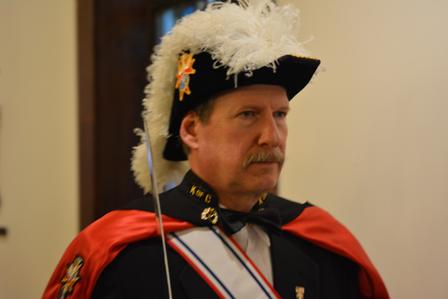 The lady in the left picture is Flo. A very nice lady and friend of Betty & John. On the right picture, the far right person is the newly appointed Deacon.
September 2014. We left on the 4th and returned on the 17th.
Missed the beautiful skies
Sharon walking on the beach
Alright, here I am
And we were not alone!!
Sharon's new bathing suit...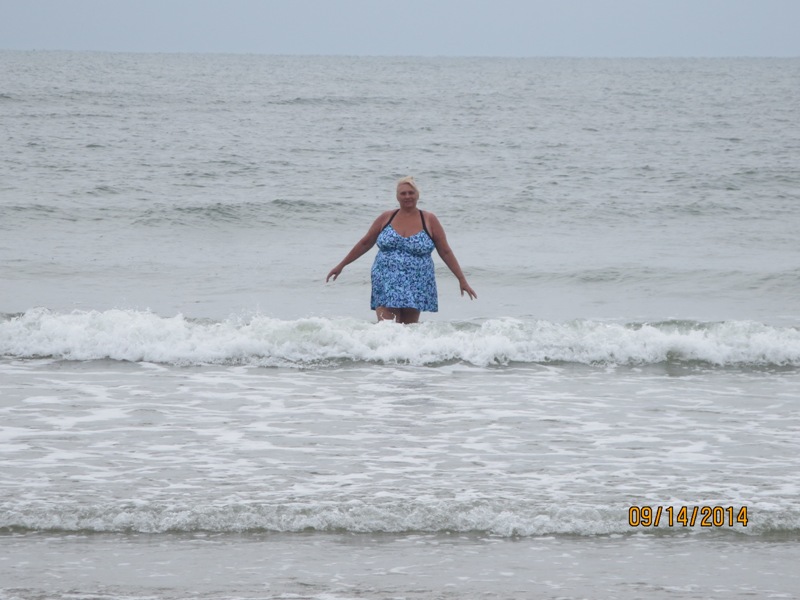 She swam, while I read
Ini the middle was George, Lynda and Sharon
It was George's birthday (well, the 30th) and Lynda's is in December...but we decided to give them an early birthday gift for having us there and entertaining us...
Lynda saved me from the water...I got to stay back...
A picture of underneath the pier
Now we went to Virginia and stopped at John & Betty's
Betty doesn't seem impressed!
Here is a picture of Betty's girlfriend, who was also her Maid of Honor at her wedding, some 40 years ago...So nice that some friendships just seem to last forever...
John & Betty made a nice breakfast for us and Denise. Their presentation was so nice, I had to take a picture
Most of our trip we would stop at a resturant called Cracker Barrel. If you have not done so, give it a try, the food is great.
We love this little checkers board with rocking chairs that decorate the outside of all Cracker Barrel resurants across the USA.
The new Carrot cake that the resturant sells, is tooooooo good.