This was an ABCA Meeting in April 2008
Sydney, Australia (here is the National Anthum-click pause when required)
Sharon and I left Kingston Ontario on 3 Apr 2008 and returned on 20 Apr 2008. The first day we left (3rd Apr) we only arrived in Australia on the 5th Apr. When we left on the 20th Apr, we arrived back home on the 20th.
 When they say Australia is on the other side of the world...they mean it. It is 16 hours flying (direct with Air Canada) from Vancouver to Sydney, Australia (do not forget it is 5 hours from Toronto Vancouver and another 3.5 hours driving from Kingston to Toronto).
Needless to say Sharon and I were tired.  Sharon's brother George Leighton met us in Sydney as he was going to spend a part of his holiday with us before going on to New Zealand.                
 The following is a small pictorial of our trip. Some of the photos were taken by Sharon with her smaller Panasonic and the rest were taken with my Nikon D80 (I mention that only for those photo enthusiasts)
This is a picture of some boats on Darling Harbour
We arrived at 1PM on the 5th April and the first thing to do was meet some of our friends who had arrived a few hours before us. here is a picture of them from left to right: In our hotel room, we had John and his wife Betty Dickhute and next to Sharon is her brother George.
A night shot of Darling Harbour from my hotel room
I took this picture of the Harbour side since I was amazed at the fact there was no one there! After going here many times (and many times since) I have never seen it vacant as this shot depicts.
George use to pick up a coffee for Sharon every morning and then they would hit the town. I on the other hand, was busy in conferences.
These next shorts were taken from the sightseeing tower in Sydney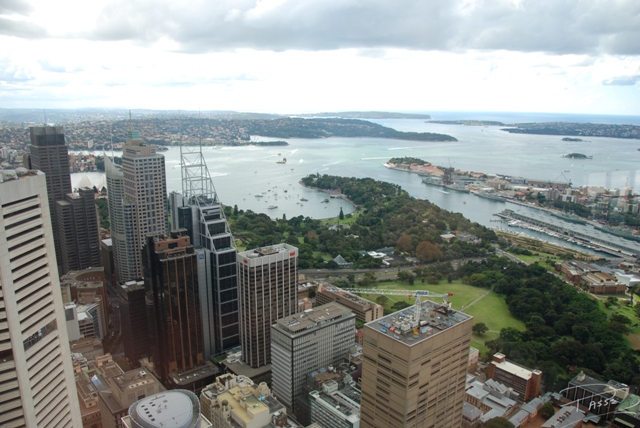 This looked like fun and was my next target to go and visit
You will later see St Mary's Cathedral  up close and personal as there was a demonstration being held there (pro life)
This is Darling Harbour with the Pymont Bridge over it.
Here is a picture of me up there in the tower (wearing my Australian hat (with Sun glasses)
Care for a quick game of chess?
a fountain (no name dedicated in 1932) in front of St Mary's Cathedral
St Mary's Cathedral where the demonstration was being held
Yes, they have spiders there also.
And bats!
George Leighton and his sister Sharon in front of the Sydney Opera House
Sharon looking for a deal on Opals
The Circular Quay was where you go to get water taxis or ferriesto other parts of Sydney.
We ended up in a fancy Italian resturant and the next picture sequence will show the owner with Sharon and I.
On 9 Apr we ventured to see where the Sydney train station was located. Here is a picture of the clock marking the spot!
the entrance to Harbour Plaza Sydney China Town
I was fancinated when I saw all the street lights go red and people just walked where ever they wanted for one cornor to the next at angles, etc. One of the streets near WOOLWORTHS (on George street, when the light turns green (to walk) all traffic stops and people cross each and every which way they want.
The mono rail service is something we gave a try and found "neat" Here is a picture of the mono rail (costs $4.50 for a once time fare or $9 for the day). It goes around the major points within walking distance of our hotel.  We tried it and you will see some photos later, but all-in-all, my evaluation, it was not worth the ride---but I took it for the experience!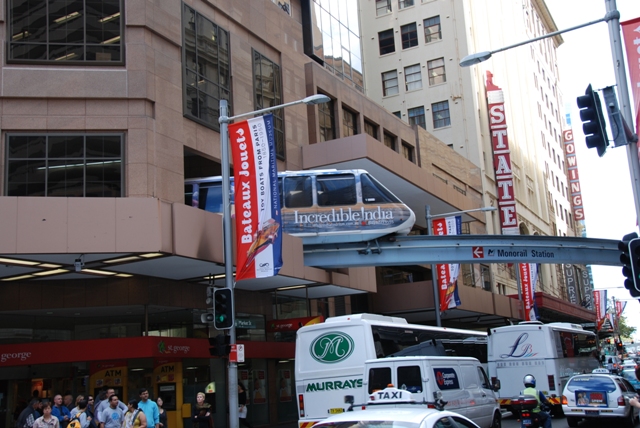 As you would imagine, when you have water, you have sail boats. Here is a picture of the Sydney carter sail boats near our hotel. You will also notice that there needs to be maintenance done and here is some brace should doing the upkeep.
Just to let you know-Nor Sharon nor I were there nor were we contemplating going there. This was just a nice picture of people who were brave enough to be there! This is the climb of the Sydney Bridge. I took the photo from on top of the bridge from a secure location.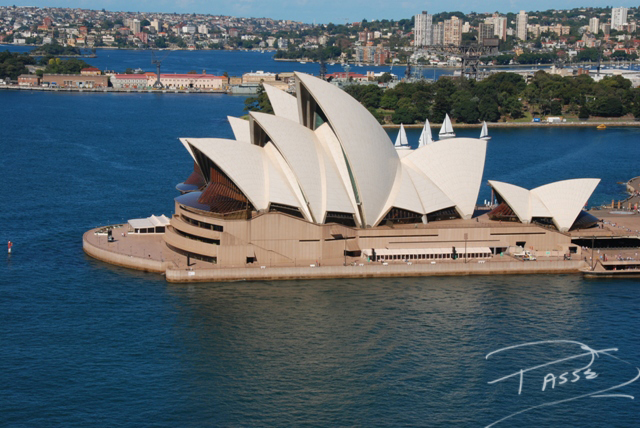 Betty Dickute is a painter amoung other things (does horticulture, law stuff etc...-many many talents) Here is a place where she went to take some painting lessons while in Sydney. What a lady! Above is the picture of a model (Lawrence)
As we were taking the ferry back to Darling Harbour, I took a picture of the Capt Cook ship. I visited that ship later.
We frequently went out for supper as a group and from left to right: Sharon, Lucas, Annita Hellemans, Terry Honour, John and Barb Dickhute and George Leighton.
Terry Dowline and his wife Liz
We had a free weekend so we decided to go to Canberra, the capital of Australia. This was a 3 or 4 hour train ride.
Imagine, first class seats with no window.
Once there we wandered around. Here is a picture of George and Sharon as we waited for a bus.
On the Sat, we headed to the War Memorial. Here are a few pictures
George and I with the long road behind us. The red stones represents the blood spilled by many soldiers, the green turfs of grass comes from New Zealand as they supported Australia. Way in the background (you will see this close soon) is the old and new parliament buildings of Canberra.
One of many cockatoos.
Here is a picture of the old and new parliament. The old one is in white, the new one is straight behind it. The towering steel structure holding the Australian flag, is one of the largest stainless steel structure in the world.  It is 81 metres high.
During the day we had a tour and here is a picture of the tour and the super guide. I apologize for the lack of focus on the guide (slow shudder speed and the guide was moving)
This is a picture taken from the new parliament facing the old one and the war memorial in the background.
The new parliament inside is really nice. You will notice marble in the entrance.
Here is the chamber for the house of customs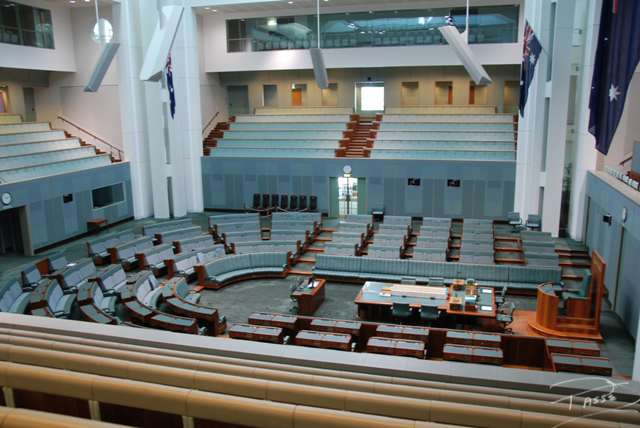 Here is what appears over the entrance of the parliament building.
The next sequence of pictures are from Sharon's camera as I could not attend that day. They are of the mountain structure called "The Three Sisters"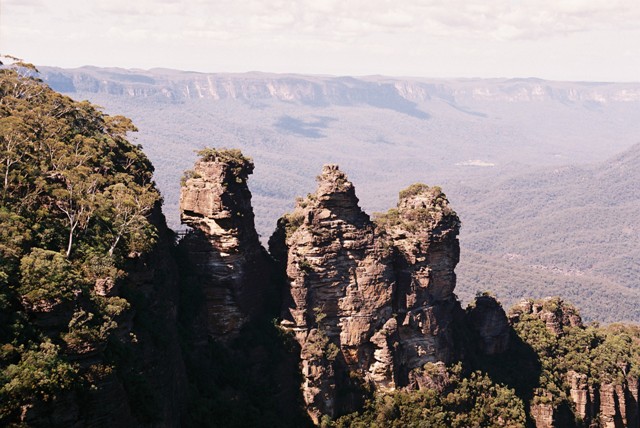 A little better seating on the return trip-I had this beautiful girl to my right...
George met a country and western singer on the train (Elly Raye-stage name-she was a C&W singer).
This is George on the bridge bringing Sharon her cup of coffee in the morning. His hotel was about a 30 min walk from ours.
This was the place to go to purchase inexpensive items. We all found a place called Paddy's Market where everything is "very" reasonably priced.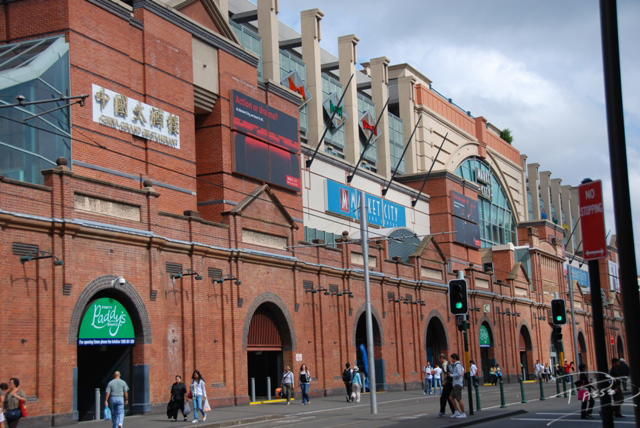 We, as a group, decided to go for a ferry ride. John and Betty to Sharon's left.
In case you were not aware, the next sequence of pictures was taken by Sharon.
Page two go here