This was a NATO Meeting 29 Apr – 10 May 2008
Berlin, Germany (here is the National Anthum-click pause when required)
This whole adventure with my dad started as a scheduled event with a NATO working group meeting to be held in Berlin.  Sharon and I had just returned from Australia and she had no intention of taking more time to go to Berlin (given that she will need some holidays to be with Kathryn later on in Sep/Oct based on when the baby is due).  I asked my dad if he wanted to go and, to make a long story short, the following is a pictorial recording of 10 days with my dad in Berlin. A special thanks here is due to Liette for arranging the tickets, to Pauline for her getting dad to and from the airport in Montreal and finally to mom who had to endure two weeks without her husband, without the "fixer" of house problems (things like placing batteries in the camera etc).
The first thing was to meet dad in Berlin at the airport and make sure that he was looked after as the flight was long and he was sure to be tired.  I have a few pictures as he looked for his luggage and left the designated area.
Once out of the airport area, we acquired our rental car (and being a good Tassé I made sure we had GPS) and headed towards the hotel.  The ride was fun as dad read the map and confirmed what the voice on the GPS was trying to tell me. Needless to say, we made it to the Best Western Hotel in Marlow on the outskirts of Berlin.  Once in the room, and looking at the double bed, I spoke with the clerk and got it changed to something more in tune with father and son sleeping arrangements.  The room was nice with no air-conditioning but the sleep itself was good.  (Dad in fact would later comment on his ability to sleep late into the morning with no problems (seems back in Canada it is not the same)).
We would cross that bridge a lot as we go to take the train to town
Our first day there, after checking in the hotel, we took a quick trip to a mall to get ourselves completely tired so that we would not even think about what was going on. We toughed it out until supper and went back to the hotel to have a bit to eat where we met some co-workers.  It was also that evening that we were able to have our first video conference with mom.  It seemed that dad had forgot to leave something behind for mom and, being the type of people we are, we took a picture and sent it to her-picture is below.
The 30th Apr was my first day at work but allowed me to go and enjoy the sights with my father. We hopped on the train.  Dad and I visited check point Charlie and the wall of Berlin. We saw the Post Dam and the famous Sony Centre.  I also took pictures of some of the structures around Berlin centre.
These were pictures of the holocaust and some of the German officer's and how they handled prisioners It was an eye opener.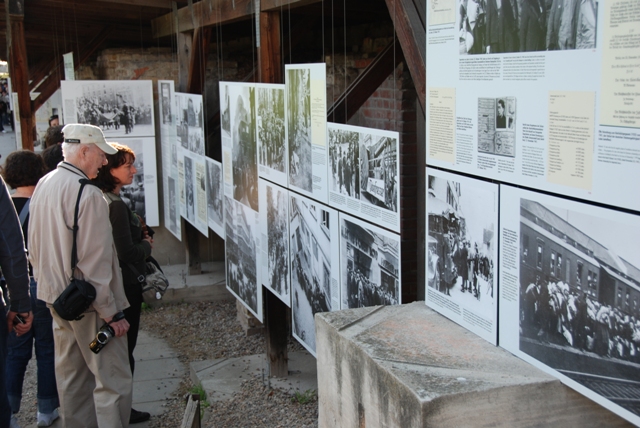 Check Point Charlie.
This building is nothing special except that it is colorful and has an appealing shape
Lots of color. Something I would later see in Portugal
Potsdamer Platz is the main subway station. This is where dad and I always got off to start our sightseeing.
Dad is actually standing on a portion of the Berlin Wall.
The entraceway to the subway at Potsdamer
Dad and I would be going to see the Blue Man Group later in the week.
The next pictures are taken from inside the Sony Centre
The 1st May was basically the same routine as the 30th Apr as dad, myself  and Therese Lessard (co-worker from Kingston) jumped on a train to get into Berlin and see the sights (even with GPS, we had to learn the train system).
On 2 May the work of the week was being completed and we were getting ready for the weekend. We went out and visited Berlin again and made sure to see some different sights.  Therese accompanied us as we went to Check Point Charlie and then the Jewish Memorial Museum and from there we slowly walked (what a walk!) to the sightseeing Tower.  We even had supper before getting there. It was a 1 ½ hr wait to get into the tower. Once up there, the night had fallen and the pictures were not as good as if it would have been taken in day light.
This was the most frightning of exhibits. There were thousands of these metalic faces and to get from one door to the next you had to walk on them. They all represented people from the holocaust. Heart wrenching
Love the signs which are above the heads of Therese and my dad. They are plentiful in the touristic locations. I only wish Canada would subscribe to this type of advertising.
Their sky tower over looking the city. The line ups were so long, it was night time before we got up the elevator so the pictures were strained.
On 3 May dad and I hit the road to Prague, Czech Republic. It was a long ride but it would lend to beautiful sights and a new country. I was looking at getting dad into a different place and it so happens to be one that is the homeland of the father of my daughter-in-law, Jan Jirsak.  We had lunch at a Jizera resturant, visited a few important places and then after I received a traffic ticket for a violation (and paid a "penalty") I was a little discouraged so I set out to return to Berlin.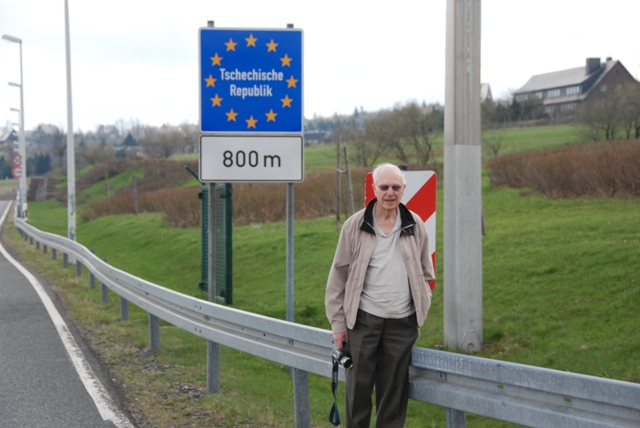 The place where dad and I went for a Czech meal
The main street. One of the more beautiful I have seen. The big building in the distance is their musume.
Here is a picture of the main street which has the Prague National Musume at one end along with a spectacular water fountain.
Vihlidka lookout tower was a little different in presentation from that of Berlin and it was nice to be able to see Prague from the hights.
inolvative design with the little men statues simulating the climb
We then proceeded home—woops, to Berlin.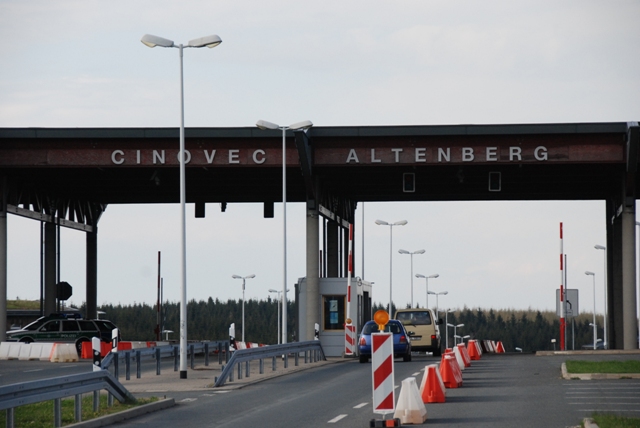 Below is the sign indicatiing the way to Dresden which iinitiated a long discussion from my dad on the US bombing of Dresden during the second world war.
And of course we tried to finish off the day by talking with mom on the video conference
On 4th May dad and I returned the rented vehicle to the Hertz dealership in downtown Berlin.  Once we located the return location, dad and I proceeded to go on a boat cruise. The following are a few nice pictures from that tour. Once comment to make is that I am not sure of all the buildings that I have taken pictures of since the boat tour comments were only provided in German.  The boat tour company, by coincidence, was the same name as the people that raised me when I was in Germany back in 1952-Winkler.
These people got married and were on the boat ride with us. Dad and I will not forget this couple as they were "very" flamboant!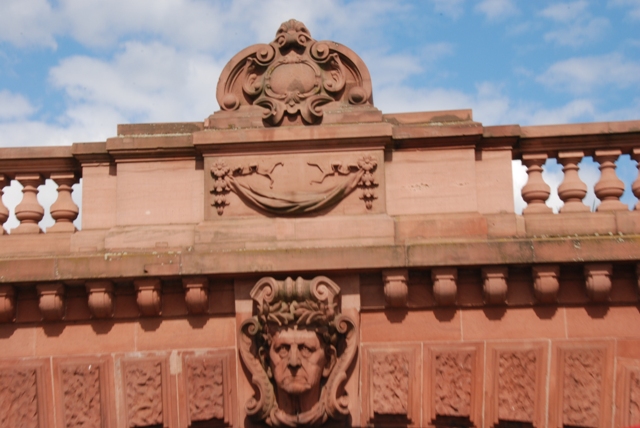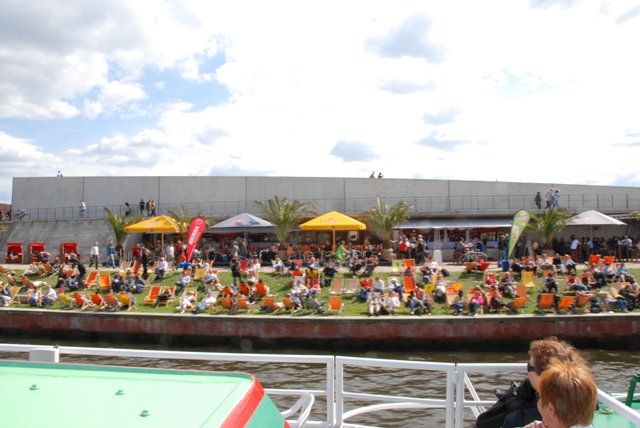 Like all things, it must come to an end, and 3 ½ hours after starting, we get off
Then after leaving the boat, we stumble on some beautiful buildings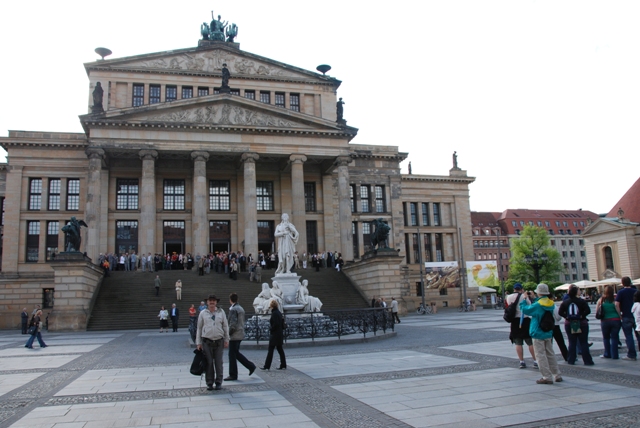 This is Brandenburger Tor
And to get home we went to the train station and waited for our train
5th May was another day and we would not be travelling too far as there was a "meet and Greet" that evening. The following pictures of from that event.
6th May was a Tuesday and nothing really planned. Our friend John Dickhute, from USA, arrived on Tuesday and went with us to visit Berlin.  One of the places that we visited was the Jewish European Memorial.
The Memorial to the Murdered Jews of Europe is the central place for remembrance and a place of warning. Situated in Berlins city centre, the memorial was built near the Reichstag and the Brandenburger Tor. The decision to build this Memorial was taken by the German parliament on June 25, 1999. Peter Eisenman, the internationally renowned New York architect envisaged a Field of Stelae, 2,711 concrete blocks of different heights, structured in a grid pattern and covering nearly 19,000 m2 of gently sloping ground. Since it is entirely open to all sides, the Memorial can be entered anywhere; but as visitors move through it, the blocks seem to form different wave-like patterns.
7th May, dad and I went to visit Germany and I took him out to see the Blue Men in Berlin.  It was a good experience and one that I hope he will remember for years to come.
8th May was a Thursday and dad was not in the mood to go to far from the hotel. We finished work a little later than normal that day and headed out with the intention of going to the local Greek restaurant.  We hit a few little stores before reaching our destination and it was good.
9th  May, dad left. It was an early day as we both got up at 0400 hrs for his taxi at 0500 hrs. I accompanied him downstairs and watched as he headed off to the airport.  My work would start at 0900 hrs so I had some time to myself.  Later that day, I left to see the sights for the last time.  I decided to go to the long tower in the center of Berlin. It was to be quite the adventure as I created a short-cut there but found a very long way back to the Post Dam Platza.  There always seems to be something amiss when the Tassé sense of direction in evoked.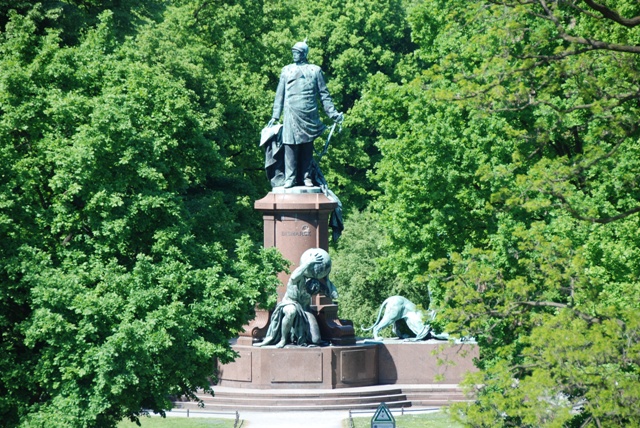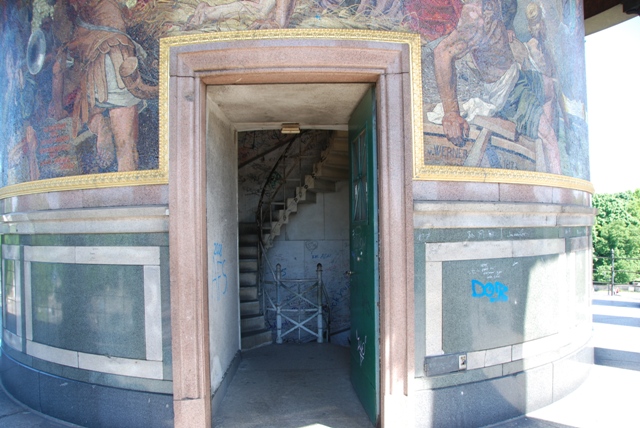 10th May was my departure date and the day started early and I filtered through Berlin via taxi and headed to the airport for my flight to Frankfurt and onward to Toronto to end up in flying in to Kingston.  Total time –well started when I left the hotel at 0745 hrs on the 10th and arrived at 1930 hrs on the 10th but do not forget the 6 hour different. When I left the hotel at 0745 hrs it was really  0145 hrs—so the day is long and is why I had stated that my dad would be very tired form his trip.
I hope you enjoyed this pictorial representation of a great 10 days with my dad in Germany.