NATO Conference November 2004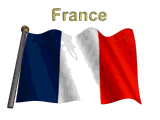 Paris, France (here is the National Anthum-click pause when required)
This was my first NATO conference. Here are the people from other countries and my first NATO picture.
This is the room where we had our meetings.
This is l'Ecole de guerre where the conference was located.
This is L'Ecole de Guerre from a picture I took from the Eiffle Tower...
The hotel that I stayed at
A small room, but it suited the purpose
A little hard (some early pictures) but this is what I saw from the window of my hotel.
I went to go visit some friends of the family that live in Paris. They treated me like royalty.
Martine and Marcel Valette-thank you.
Alexandre
6 Nov
Marcel
A supper fit for a king. Thank you
Next I went randomly around Paris and was basically setting the scene when I knew that I would be bringing Sharon here for a visit. Little did I know it would be only a year later that we would make the trip.
Galeries Lafayette

Francois Mitterand Library
St Augustin with Joan of Arc on Horse