The following is our Trip to Germany and Switzerland 2002
In Oct 2001, I was deployed as part of the Canadian response to the 911 attack. I spent my initial time in Barhain and then went to Kuwait. It was in Apr of 2002 that I met Sharon in Germany for a 10 day trip to Zurich, Switzerland to Garmisch and then to Munich Germany before she departed for Canada and I went back to Kuwait.
I met Sharon in Munich and surprised her with train tickets to Zurich. She has always wanted to go to Switzerland and this was my opportunity to make her happy.
Trains in Europe are very comfortable and luxurious.
We went on a boat ride to tour the surrounding area.
As you can see from the town or Zurich and area, it is old and has much history.
When it was all over, we left for Garmisch through Austria. In fact it was Insbrook.
When we arrived in Garmisch Germany, there was much to do and it was a lot of visual as there was beauty abound. We stayed at the General Patton and loved the small village. We met some people (Barb and Jim Shannon) with whom we bonded and we spent most of our time in Garmisch with them.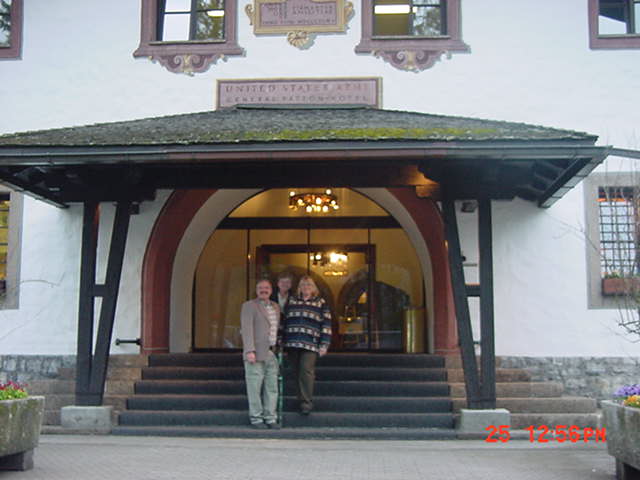 This was taken at the steps of the General Patton.
One of the places that we had to visit was Neuschwanstein Castle.
The next day we had a walk about in Garmisch itself
At the end of our week, Sharon and I wanted to spend some time in Munich. It was then that we visited some really neat places.
The Olympic Home of the Munich games
We next went to the Hofbräuhaus .
Wilhelm V., Duke of Bavaria (1579 – 1597), had a thirsty and demanding royal household, which was dissatisfied with the beer brewed in Munich. As a result, beer had to be imported to Munich from the city of Einbeck in Lower Saxony. Wilhelm ordered his royal court to come up with a way to reconcile cost and pleasure. On September 27, 1589, the chamberlains and council members approached him with an idea: why not build their own brewery? That same day, he recruited the master brewer of the Geisenfeld Monastery, Heimeran Pongraz, to be the planner, developer and the first "brown" Hofbräuhaus' master brewer, which went into operation at the "Alter Hof" ( Old Court ) in 1592. It was called the "brown" Hofbräuhaus as only brown ale was brewed there. http://www.hofbraeuhaus.de/en/01/hist_1999_en.html
The hotel we stayed in before departing our separate ways.