Happy Retirement
22 November 2013
Sharon Tassé
(Speaker's on-press "pause" if you want it to stop)
This is at her work...Sharon's boss had invited me and her close friends
Dianne & Abe showed up bearing gifts...
Sharon worked beside Tracy whom helped her pass the hours...in between the Accounts Payable entries
Sharon and Donna.
They made a purple cake for Sharon...she loves purple
The decorations were well done and plentiful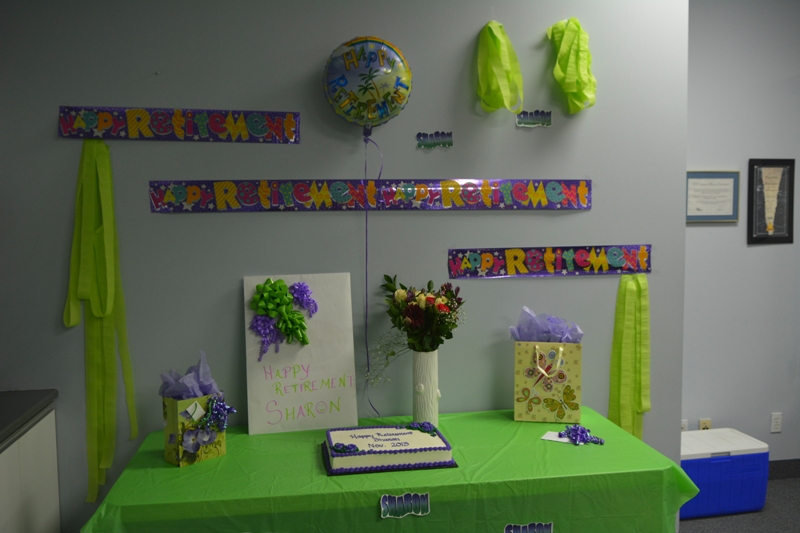 The Controller said a few words on Sharon-Alice (Sharon's boss) was away
Brent, the Vice-President, said a few kind words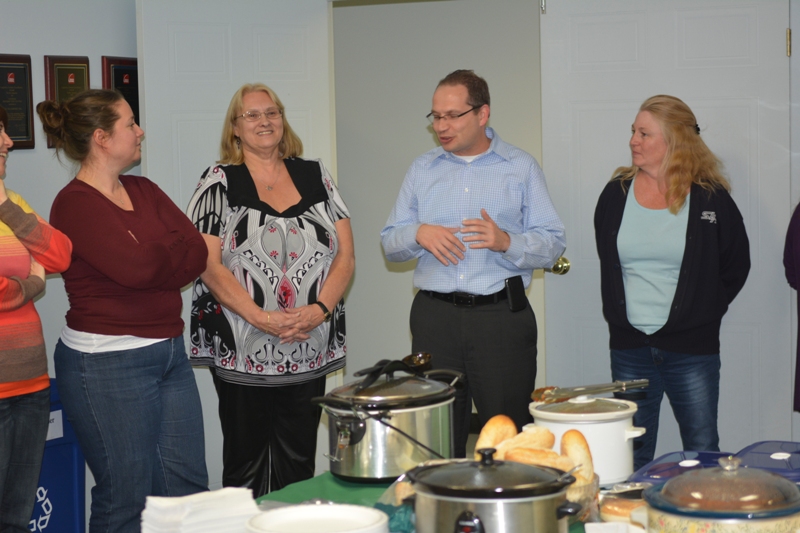 The lady in the back in Pick was Sharon's old boss-Marlene (She retired last Christmas). Who would have thought Sharon would follow her a year later?
This was a beautiful set of gold earings.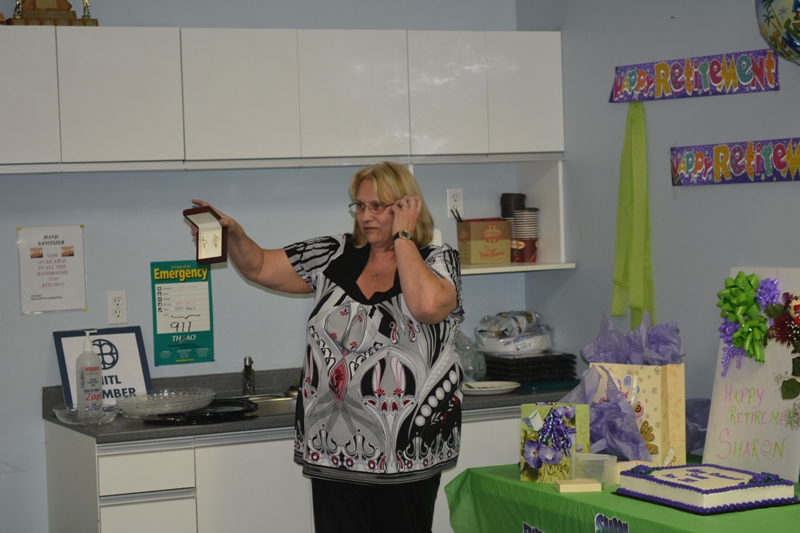 Sharon got suspecious when all the items she was opening seemed to say "SLH". Upon questioning, she found they were all from the "recruiting section". Sharon was quick to tell them this was a retirement party not a recruiting drive :)
Sharon started her speech
Yes, they are real!!
Sharon is hugging Gail Charlebois, a friend during her time there
Sharon says one of the benefits of being the retiree, is that you get the first plate and the first pass at the food. lol
Of course, Gail was close to Sharon to wish her well
The girl at the bottom left is Sharon's replacement, Leanne.
She received some beautiful gifts:
Her gold Earings
Then there was a retirement party in Gatineau Quebec. We took a hotel the night before....
George and his Rhum and coke.
Lynda with our Grandchild, Katryna. We had her on a sleep over as she did not want to go away that weekend.
Would you blame her?
Then...the party..
Some people sent letters and videos. Sharon had cards from our friends in Saudi Arabia (through Virginia (Tom & Marigene) as well as John & Betty from northern Virginia. Below is a letter from Dave (Watertown NY)..he calls himself a friend. After what I read, we are going to have words about what friendship is all about :)

A video from our friends Tom & Marigene Little. Tom is in Saudi Aribia at the moment and could only send a taped message. We asked him if we could go there to receive his words of wisdom, but, unfortunately, he said it was a restricted area :)
There are also two videos from Annita, a friend who wishes only well. Annita & Lucas could not attend--they preferred to go on a cruise at that time....you'll notice you do not see Lucas..wonder why? :)
As if one was not enough..
----------------
An email from her daughter on Sharon's last day at work...I wish I would have thought of that?
---------------------------
Mom on this day as I send you a last email to your work..I think about how hard you have worked throughout my childhood and up-bringing how you managed to raise us all with good morals and values as you worked so hard to provided us all with a good life ....You Did It..and you should be proud as I am proud of you not just today but always.
Love
Kathryn
A woman who admires you
xoo
-----------------
Bock to the home page click here