Well it finally happened...I turned 65. I thought I was going to spend a quiet day playing golf and going for supper with my lovely wife, but she had other plans. Being the resourceful, loving wife that she is she planned an impromptu party for me...of course I had to help ;)
Thank you all who came and took time out of your day to be here with me. Your being there/here, made the evening so much more memorable. Here are a few pics of that evening
To begin with people were texting me in the morning asking what I was doing, so I sent this pic with the caption...I am trying to play golf
Thomas & Kathryn and family showed up
We had Leonard and Jackie from next door and Wayne & Vickie. Jackie was most likely reacting to the news that the government was now going to claw back some of my pension...
Joshua was enjoying a hamburger and Jonah was listening to music
Vickie is always happy when she has the Jonah and double now that she also had Katryna. A few days ago when Wayne and Vickie came over and I mentioned it to Katryna, she asked..."are they the ones with the pool?" Since we went there one hot day with the kids...what they remember :)
Abe is looking at some gadget...his wife Diane was off on another meeting somewhere in Ontario ;). Abe is a friend in long standing as we have known them since the late 70's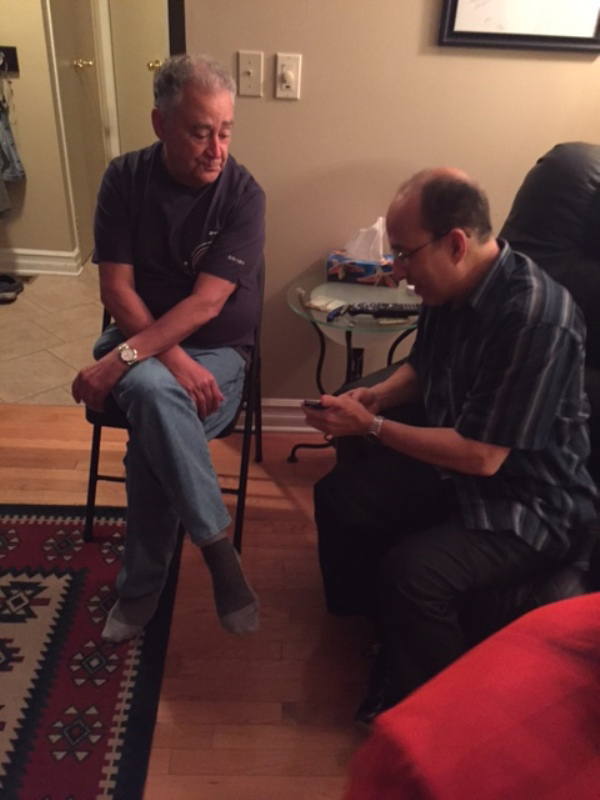 Wayne is wondering when would be his turn to have the baby....he held Jonah for a while and I wasn't able to take a pic at that time
There was a small meal and lots of goodies
We obviously had cake and apple pie...That is Rodney and Kheayali in the background and Shelly and Hutch at the table.
Hutch seemed worried a flame was going to go his way...
I was explaining to people that the pie was really decoration and they should all opt for the cake
Then, though nothing was asked, there were a few cards and gifts
This was a special card from my mother, who at 87 has more abilities with a computer than people half her age. Her trademark are these photo-cards showing you when you were very very young....
I received a lot of other cards and gifts...but also emails from a friend in Riyadh (Tom), John & Betty (VA) and one from Kheayali's parents in Qatar. This is along with other emails and well wishes on FB from high-school friends to co-workers...
I will share a few of the cards and openings here but first let me start with the two from my grandkids who were here
From Katryna, and there was a competition on who gave the most kisses and hugs

And from Joshua. I asked Joshua why there was water where my golf club was...is it because he thinks I am in the water all the time? He said no, it is background only.
and other cards and gifts. THANK YOU AGAIN for coming
And Kathryn and selfies...
A Day where nothing was planned, to a day I will always remember. Thank you to my wife for her selfless and dedication to making this a great party.