Jean-Paul Tassé
1927 - 2013
(Turn on your speakers)
1) Pictures in a Video of my dad's life

2) Obituary for Jean-Paul Tassé

3) Condolences

4) Program of events

5) Eulogy

6) Poem - read by Deacon Dan Coriveau at dad's funeral

7) Funeral Pictures in a Video

8) Other pictures

9) Family Tree

10) Final Words
1) Video
The Video above is a snap shot of my dad's life. Below are some pictures that I would like to share that may not have been included in the video.
2) Obituary
Jean-Paul Tassé, 86, passed away peacefully, Sunday, 3 November, 2013 at the palliative care of Mathieu Froment-Savoie, Gatineau, Quebec surrounded by his loved ones. Our dad was born 21 March, 1927 in Ottawa to Louis-Oscar Tassé and Alboma Langlois.

Dad served in the Canadian military beginning his 33 year career during WWII in the Royal Canadian Ordnance Corps. After meeting Rita Laquerre, playing a little tennis and vying for her hand- they were married two years later in Montreal on 7 October 1950. They have been together for 63 years travelling and enjoying cruises and resorts especially those with their grandkids. In the 1990's when they travelled less, they established a Gite et Déjeuner where they met and established friendships with people from around the world.  Dad and mom had the chemistry, the relationship that many dream about in life.

Dad was a good man and all who have known him have benefited from his friendship, leadership and wisdom. Dad loved to spend time with his family and friends. He was involved in golf, tennis, and playing XBox games with his grandchildren.

Dad is survived by his wife, Rita Tassé (nee Laquerre); son Pierre (Sharon) Tassé; daughters, Pierrette (Danny) Pothier; Pauline (Rob) Ross; grandchildren Matthew, Kathryn, Thomas, Tyler, TJ, Clinton, Steven, Lyndsay, Mandy, Cassandra, Chantelle, Christine, Courteney, and 12 great grandkids; and numerous nieces and nephews; also by Liette Ott (nee Black) who is like family to us.

A viewing took place on 10 Nov at Cooperative Funeraire de L'Outaouais, Gatineau. A Memorial Service was held in the Sacred Space of Beechwood, Cemetery and Funeral Services, Ottawa on Saturday, November 16 with interment in the National Military Cemetery at Beechwood Cemetery. In lieu of flowers, donations were made to Mathieu Froment-Savoie who we wish to collectively thank for their continued support and care and making these last few weeks as comfortable for our dad as it was possible.
3) Condolences
4) Program of events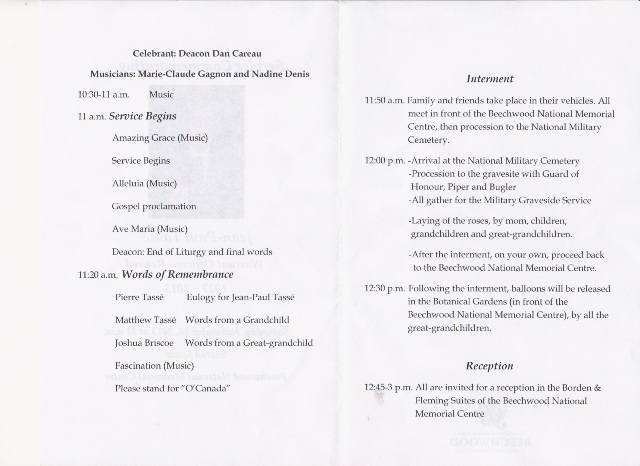 5) Eulogy
To listen to it being read (after the fact - by Pierre) click here

To listen to it being read (after the fact - by Joshua) click here
6) Poem:
(This was read by the Deacon and resounded in all our hearts)
Miss Me But Let Me Go

Author - Unknown

When I come to the end of the road
and the sun has set on me,
I want no rites in a gloom filled room,
why cry for a soul set free.
Miss me a little--but not too long,
and not with your head bowed low,
Remember the love that we once shared,
miss me--but let me go.


For this is a journey that we all must take,
and each must go alone.
It's all a part of the Master's plan,
a step on the road to home.
When you are lonely and sick of heart,
go to the friends we know.
And bury your sorrows in doing good deeds,
miss me--but let me go.
7) Funeral Pictures
8) Other pictures
My dad went a lot of places and did a lot while he was in the miltiary
Medals (From left to right)
1. Canadian Volunteer Service Medal 1939 - 1954
2. The War Medal 1939 - 1945
3. Special Service Medal
4. Canadian Peacekeeping Service Medal (CPSM)
5. United Nations Operation in the Congo (ONUC) Medal
6. United Nations Emergency Force II (UNEF II)
7. Canadian Forces Decoration (C.D.)
8. Commissionaires Long Service Medal
In 1942, dad joined. I wonder if many of you would be that committed at 15 yrs old?
He not only had a part time job at Tapp Museum but later worked for Eatons.
I remember when it was a parade to go to church and confession. Here is my dad on the far right waiting to confess....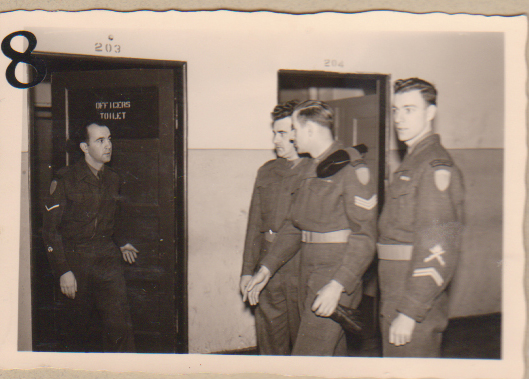 Yes, I guess my dad was in shape...
His story for Congo
I remember these in Montreal hanging on the wall at home (picture above).
1963 Congo and a volks
1963 - this souvenir I do not remember
Romeo Bernaquez on the right with my dad. We would meet him many times throughout our lives.
This picture of my Grandmother and Grandfather Laquerre who are with my parents, was taken in Three Rivers in 1975 when it was the 25th wedding anniversary for my parents and the 60th for my grandparents.
1976 I got married and was proud that my dad and I were both in uniforms.
Dad with two ladies at his work in Touraine. He worked there from 1982 to 1992.
My father and mother
Dad waving good bye to his fellow workers as he retires from Touraine.
This house was in Gatineau. My parents had formed the "maison sur la colline"a bread and breakfast. They met a lot of people over the years and are freinds with many still to this day.

My dad came down to Kingston while I was the Supply Officer. It was the Logistic Birthday so I got him to cut the cake.
My dad, Pierrette (my sister), TJ and Clinton (Pierrette's children)-(and others) saying good bye as I departed for Bahrain in 2001 just a month after 9/11.
2002 - a birthday wish from a grand daughter and god daughter Kathryn Tassé
2002, my parents saying hello toThomas (my youngest son) at his job at McDonald's
2003 Dad with his sister Helene D'Amours. Helene passed away in 2009 click here
2003-my parents with Aunt Stella, who also passed away in 2013. Click here
My dad , my mother and my daughter Kathryn visiting her at Loyalist College
Rob Ross, Thomas Tassé, me and my dad on a father's day at Loyalist Golf Course
A birthday party....my dad with my youngest sister Pauline
My parents visiting Thomas at WSI in Kingston.
My dad with Donna Ross (Pauline's mother-in-law) and Pauline looking over his shoulder
I'm guessing this is around Christmas :) Not New Year's Eve! So why is my dad kissing my mom and not Santa Clause?
My parents with their grandchild Joshua (Kathryn's son) in Ottawa. He was only a month old. No wonder dad was teary-eyed.
Dad and I having a little laugh
Well, maybe a big laugh
I guess he smiled with a lot of people-here he is with Kathryn
2005 at Joshua's baptism. Who else could hold a candle so authoritatively? He was at many baptisms over the course of 86 years.
Dad was always there when things happened...or he helped them happen. I am sure Kathryn is crying because of a prank which is why Matthew (my oldest) is smiling.
Easily forgiven
Every Father's Day, we always tried to get out and play a round of golf. For many years it was just us four, Rob, his dad (Robert Ross) , my dad and me. Mr Ross passed away in 2010. Click here
Mom and dad went boating with Danny Pothier (Pierrette's husband) and Pierrette and family, so this is where we were when we took the picture and they liked the trip so much, mom took the picture and framed it to remember the event.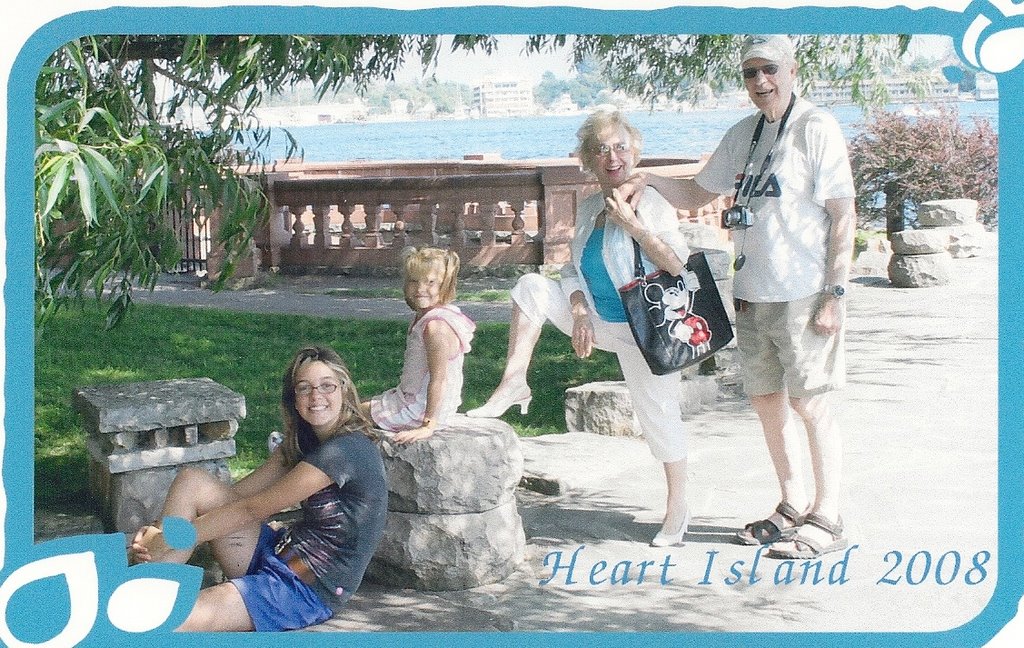 2008 a picture of his God Daughter (Kathryn) who is giving him a birthday present.
In 2009 my parents were in Kingston.
They always loved attending parties.
He loved our cat and the cat loved being in his arms....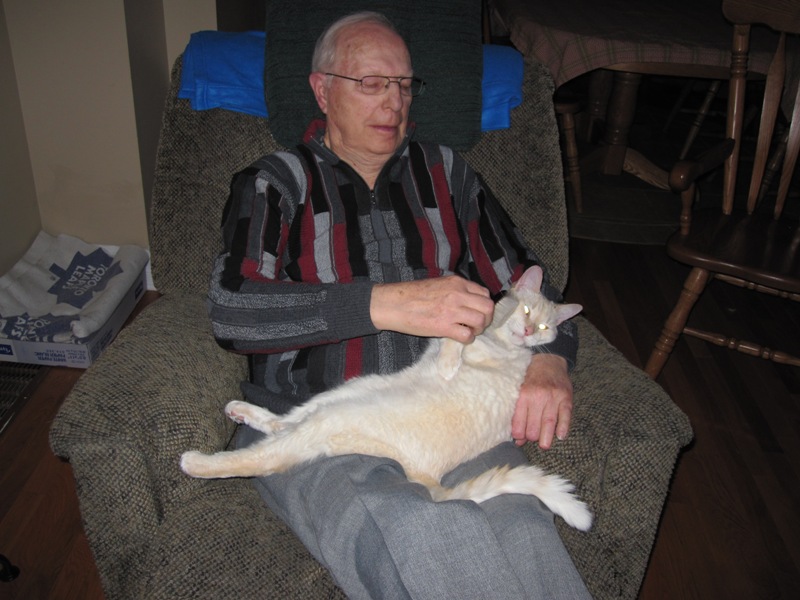 This was on the plane from Las Vegas to the Grand Canyon. They are with Liette Black-a family friend who is like a sister to us, a daughter to my parents.
Don't we always joke when we are a little nervous flying???
This was in Feb 2011, if you asked my mother and father to an event, most times they were there.
2011 At Pauline's Cottage. He didn't get lost he went there for quiet weekends.
My dad always helping someone. Here he was helping Christine (Pauline's daughter) getting ready for Pauline and Rob's 25th. Christine has an ability to create great cakes that not only look good but also taste good.
My dad loved this trip to Punta Cana (2013). He enjoyed everything about it. I wonder if he knew this may be his last. He got remarried for the 2nd time (1st time at 25 years and 2nd time at 63 yrs). Pauline & Rob brought them there and the remarriage was a surprise.
This was taken the 7th of October 2013. My father would pass away 27 days later.
Celebrating his 63rd Wedding Anniversary at Moxie's - beleive it or not: the table we sat at was table # 63.....unbelievable!!!
9) Family Tree
10) Final Words
My dad passed away and is gone. I have no regrets, I loved him and I knew he loved me. I do wish he was here though so that I could listen to his voice, his jokes and his sound advice.
Dad we miss you.
Dad I miss you.