The setting was Pointe-du-Lac (west side of Trois Rivieres, Quebec), I was sitting next to my Grandmother Laquerre (whom I miss very much even to this day!). Sharon (to my right) and I were now announcing that she was pregnant. We were later to determine that this was Matthew.
We lived at the Uplands military base at that time. I would imagine that this is on Dekota Drive where we lived.
My sister Pauline (to whom I am godfather) would be the one to be the godmother for Matthew and Roger Crotty, Sharon's brother-in-law would be the godfather.
This was my first dog-SABRE and he loved Matthew.
A picture of Matthew with his Grandfather George Leighton
I tried to teach him to eat healthy and here we were eating celery
I tried feeding him since he fell asleep so often at other meal times.
We must have done something right since here hee was on his first birthday.
I would guess here and say that we had now moved to Victoria where I was going to university at Royal Roads Military College
Is this where he got his love of music from???
Here we jump to 1984 and we are located behind our townhome in Wainwright Alberta. Sharon was now pregnant for Thomas. Matthew is playing with Kathryn, his sister.
Sorry Matthew, but you looked so cute!
A member of beavers.
You even won a trophy playing hockey in Wainwright
Your class picture
1985
1991 at my grandparent's 40th Wedding Anniversary
1994 19 June Matthew Kathryn Thomas and Tyler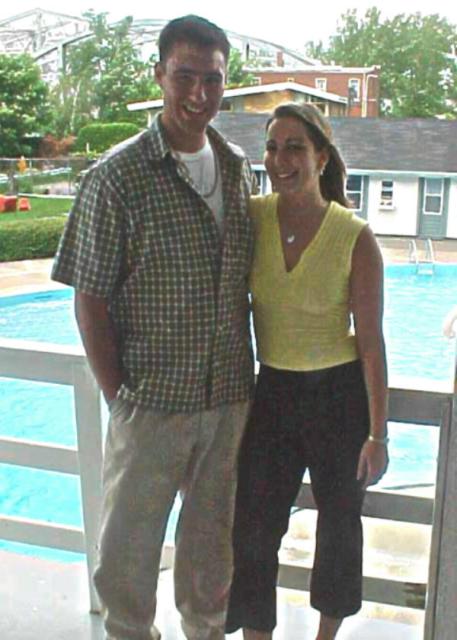 15 Dec 2000 Matthew proposes
Click here to go back to Matthew's Home Page
Click here to go to Matthew Years 2003 to 2005
Click here to go to Matthew Years 2006 to 2009
Click here to go to Matthew Years 2010 to 2014
Click here to go to Matthew Years 2015 to 2016