2022
Kathryn and Mike love to go skating and they usually bring Katryna and Jonah but today, this night, they went on a date...skating.
4 January

In Feb, Katryna came down for about 10 days to Daytona Beach Island in Florida. For more of Katryna in Daytona Beach click here in Feb and March
15 Apr. Kathryn went to visit Joshua. Joshua doing drivers Ed. He's doing coop and he's thinking of becoming an engineer which is what Kathryn always felt would be his path since Joshua was good with numbers and has a methodical mind for tackling difficult mechancial issues. He's a good mechanic now he redid his ATV by himself which he is very proud of having done. Kathryn (and siblings) were happy they saw him . We can always tell ourselves that it was his young roots that made him what he is today so Kathryn can congratulate herself on helping him be the man he is today. It will always be a hole in our hearts that we'll never understand as to why he did the things he did that made he want to go to his dad's.
17 April -Easter
Jonah and Katryna with their Easter Gifts from Kathryn and Mike

25 Apr working hard at the bridge

26 Apr 2022 we decided to go to Swiss Chalet for supper
1 May Jonah riding the bike with Kathryn (she's riding her bike taking a movie). He just learned to ride his bike without training wheels this week.Katryna and Kathryn have been teaching him.
2022 1 May: Mike playing pitch and catch with Jonah.
Cassandra's Wedding 15 May
20 May, Katryna had to sign some papers for HS to go to LaSalle and she didn't know how to sign her name-so Sharon and I taught her and she started pretty good. She practiced a lot with the "assé" which was the hardest part for her.

29 May Katryna gets the Sacrement of Confirmation other pictures Click Here
5 June: Every now and then there is time for a get-away for just Mike and Kathryn.
But there is always time for breakfast with Grandma
On 10 June, Kathryn, Katryna and Jonah went for the weekend to Lucky Lake
22 June 2022: Katryna's Graduation click here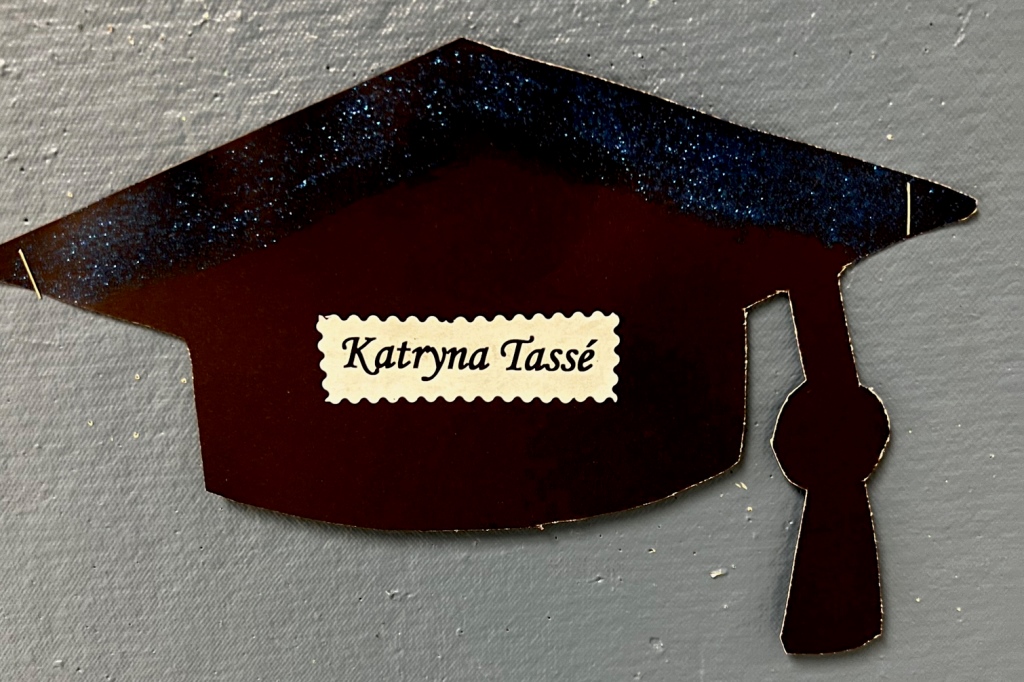 I just love this picture of Kathryn and Mike taken on 1 July.
1000 Island Cruise
17 July they went to Ottawa for the day and I'm guessing to the Wave Pool. Starting from left to right (on first photo)
Daniel (Mike's son), Jaxon (Mike's 8 year old grandson), Katryna (13 year's old), Kathryn and Mike.

An afternoon in Brockville
The picture at the resturant didn't work...well, the place wasn't worth remembering anyways. We walked over Brock Trail bridge.
Jonah played in Hardy Park.
We then went to play Mini Putt
At the end he wasn't pleased since Sissy beat him (and me) and Grandma came in last even though he (and grandma) got a hole in one!!
Well we all deserved a treat after that showing
On 22 July Kathryn brought Katryna and Jonah to Santa's Village
Click here to see the pictures of that day and what a beautiful day she had.
And on 26 Jul, she went to Canada's Wonderland with friends of Kathryn. Tammy is far right, Katryna, to her left is Faith. The two at the end are Reyily (Tammy's son) and his girlfriend.
Kids first day at school 6 Sep 2022 -Katryna (Grade 9), Jonah (Grade 1)
Joshua (Grade 12 -pictured with his girldfriend)
-------------------------------------------------------------------------------------------------
14 Sep 2022 posted to Facebook
Click here for more pictures of Kathryn as a bridge operator.
---------------------------------------------------
on 17 Sep, Kathryn brought Katryna and Jonah to the fair
-----------------------------------
4 Oct Katryna turns 14 today
Click Here for more pictures of the 4th of October celebrations
5 Dec 2022 Kathryn brought the kids to the Holiday Inn to go swimming
------------------------------------------------------------------------------------------------------------------------
13 Dec brought Katryna to Pita Pit at Lunch
2022 Jonah Grade 1 school picture from St Martha Catholic School
Christmas concert, he was singing a reindeer song
----------------------------------------------------------------------------------
Click here to go back to Kathryn's Home Page
Click here to go to Kathryn's webpage of 1979 to 2002
Click here to go to Kathryn's webpage of 2003 to 2005
Click here to go to Kathryn's webpage of 2006 to 2009
Click here to go to Kathryn's webpage of 2010 to 2012
Click here to go to Kathryn's webpage of 2013 to 2015
Click here to go to Kathryn's webpage of 2016 to 2018
Click here to go to Kathryn's webpage of 2019 to 2021