Katryna's Road Race on 1 May 2019 click here
On 24 May Katryna had another race and this one was to qualify for the regionals. She came in 4th and was able to qualify.
On 17 June, while I was at Planet Fitness, Kathryn jumped in to take a picture
June 24th saw Joshua graduating in Brighton after being there for one month. It was sad that it was held there after Kathryn and family supported, loved and helped him through all the years at St Martha's Catholic School. Now he is in the public system.
A picture taken in St Martha's
His graduation certificate most likely says Northumberland Hills Public School
A proud family who have helped, supported, loved and nurtured him to this stage. A time in his life when he chooses to be with his dad. A time I hope that he does not regret and hopefully he will graduate high school and not be like his dad. Good luck Joshua.
Pictures from Thomas's wedding 13 July 2019
Matthew & Lisa bringing Katryna to Montreal for a weekend.
Halloween 2019
Katryna was signed up for Ninjastics and she loved it.
Fall pictures
Love this picture of Jonah
2020
Kathryn, Chris and Katryna went to Disney World in Florida. Chris chose that time to propose to Kathryn who said yes
During a visit on 29 July 2020. Thomas was social distancing and could not come.
This is a text from Katryna to Sharon and I at 11:24PM 30 July 2020
-----------------------------------------------
I know it's late and u guys are probably sleeping but I just wanted to tell u how thankful I am to have such an amazing grandma and papa u guys are my world I wouldn't be where I am today if it wasn't for u guys u guys do so much for me Jonah mom and everyone u guys are so amazing in so many different ways u both have been there for me since day 1 u have made sure I stay safe I'm so so lucky to have u both in my life cuz I would be completely lost without u guys u guys always make me laugh make me feel better I love u guys so much I can't even tell u how much I love u guys anyways I just wanted to tell u how thankful I am for u guys and I love u have a good night xox
-----------------------------------------------
Needless to say it touched our hearts beyond words.
--------------------------------------------------------------------
6 August, the mall closed the JUSTICE store and all the sales associates got together. Kathryn was the manager of the store for 4 years since 2016..
Top: Left to right: Sara and Tammy
Bottom: Dianne, Taylor, T, Kathryn, Cait, Amberlee, Pauline
Kathryn passes her CPR course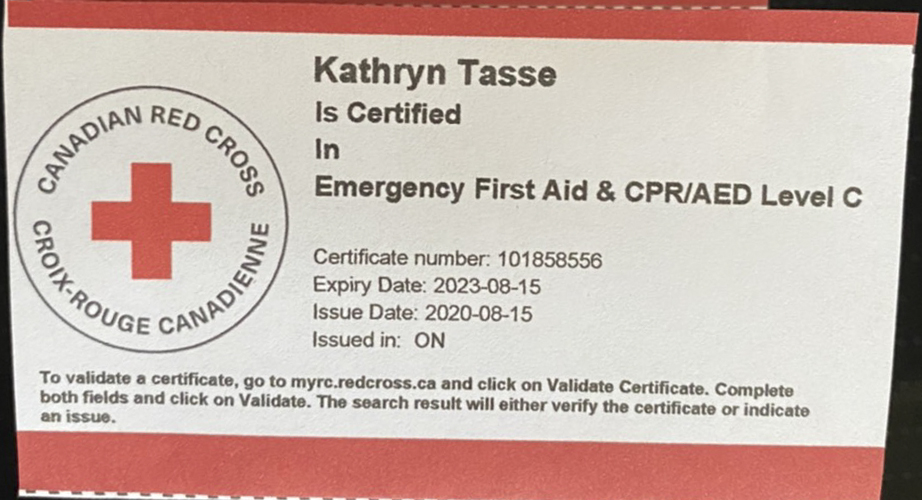 Kathryn went up to visit Grandma with Joshua who visited from his dad's
In June 2021 Kathryn and her boyfriend Mike Brousseau rented a cottage in Calabogie
The patch on Katryna's left arm is a left over from her 1st Vaccine shot
On 6th of September Kathryn celebrated her 40th Birthday with friends and family. Yes, her birthday is officially the 3rd, but we decided to celebrate it on the 6th to ensure that Matthew and others were able to attend.
Click here for pictures of the party.
28 Nov, 2021, Kathryn leaves her rented home to move to another rented home. Lot of stress and anxiety.
Jonah loses his first tooth. Yes jonah put his tooth in the tooth box and under his pillow. When we talked to him, he even said he was going to try and stay awake to actually see the Tooth Fairy.
A video of Jonah wishing everyone a Happy New Year. Does not play on Apple devices
-----------------------------------------------------------------------------
Click here to go back to Kathryn's Home Page
Click here to go to Kathryn's webpage of 1979 to 2002
Click here to go to Kathryn's webpage of 2003 to 2005
Click here to go to Kathryn's webpage of 2006 to 2009
Click here to go to Kathryn's webpage of 2010 to 2012
Click here to go to Kathryn's webpage of 2013 to 2015
Click here to go to Kathryn's webpage of 2016 to 2018
Click here to go to Kathryn's webpage of 2019 to 2021
Click here to go to Kathryn's webpage of 2022 to 2023